Mobile can inherently accomplish many things that static or desktop channels cannot. It is an essential platform for engagement that no business should ignore, especially not in the EBC.
Business at Light Speed
To understand why mobile is such a driving force, one need only consider some of the societal transformations that have happened over the last few years. Life is much faster-paced, and we're all more connected, which means everyone now has their finger on the pulse of current events. This presents an incredibly lucrative opportunity to reach much larger audiences than ever before.
Modern business happens at light speeds. Analog-based systems have been swapped for highly personalized on-demand experiences. Without the help of mobile, there is no way to deliver these highly sought-after interactions.
That is because mobile enables an unprecedented level of connectivity between parties; it boosts the relationship that exists between a brand and its employees, vendors, customers and partners. It's a tour-de-force marketing tool. The average user interacts with about nine apps per day, and 30 apps per month.
Via mobile you can see events happening in real-time, collect the necessary data as it comes in and then react instantly. For example, if a customer visits a local store, you can send targeted promotions based on past purchases to ensure they don't leave without spending. Alternatively, if you know a customer is interested in a certain topic or type of content you can use that information to tailor your communications.
The beauty of mobile is that now everyone is conditioned to review their devices regularly. It's a programmed response. When your phone vibrates or a notification comes in, you automatically check to see what's going on. Consider how often those alerts are truly relevant to you. Yet, you still look, every time.
50 percent of all smartphone owners check their notifications as soon as they wake up in the morning.
These elements separate mobile from any of the other channels in the business world. The benefits of mobile carry over to engagement and retention too. Companies with the strongest omni-channel customer engagement strategies retain about 89 percent of their customers, compared to 33 percent for companies that have weak strategies.
With this in mind, it's easy to see why you might want to establish a mobile mindset in the corporate space for customer meetings and relationship management. The question then becomes: what is the best way to incorporate mobile?
"When your phone vibrates or a notification comes in, you automatically check to see what's going on. Consider how often those alerts are truly relevant to you. Yet, you still look, every time. @TheCXApp"
CLICK TO TWEET
The Top Three Ways Mobile Will Improve Customer Meetings
Ask yourself, what is the most important aspect of customer meetings and events or actions at your office or Executive Briefing Center? Aside from the information you might gain meeting with someone in person, the experience is what matters. What does your audience take away? How does this improve relations or performance?
Improving the customer experience is integral to what you're trying to achieve. These are the top three ways mobile can help you do that.
Location Services
Through location data you can glean more contextual information about your audience. On-site beacons and smart sensors can be used to collect or deliver information the minute customers step out of their car.
Well placed beacons can direct visitors into and around the EBC property, automate check-in procedures, ping special offers and even offer real-time communications. Imagine assigning visitors an EBC rep or tour guide the minute they push open the front doors. It's more than just the latest technology; bringing physical spaces and people together through a carefully crafted digital experience is the last word in delighting your customers.
Real-Time Updates
Users — be it customers or employees — can access a system anytime, no matter where they are or what they're doing. That's the whole idea. But this works backwards too.
You see, you can reach out to users in a variety ways. Push and text message notifications are a great example. Don't' underestimate email as well; 56 percent of emails are opened on mobile.
In the EBC and during events, real-time updates enable a flexible attendee management program where things like agenda, room, and personnel changes can be done on the fly. These changes can be handled in seconds, clueing everyone in.
On-demand access delivers relevant content and multi-way communications that only an innovative mobile app platform can provide. For customers and potential customers, this opens a window into your company's current status; such access to knowledge elevates the ensuing relationship from customer to partner.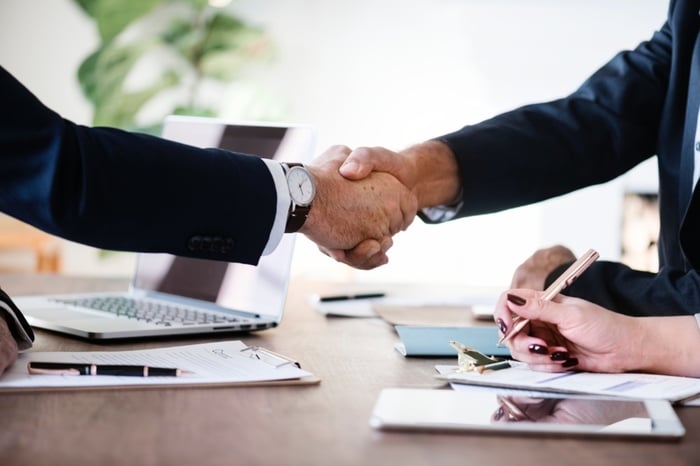 Customer Insights and Data
Conventionally, the data resulting from a meeting or conference would be segmented. Moreover, paper-based data tends to get misplaced and disjointed, especially when it needs to remain with comparable reports or sources.
When everything is conducted via mobile your findings stay digital and accessible. No information is lost between meetings; in fact, data can carry over seamlessly from event to event. It can even be transferred from person to person, or group to group. Important information is accessible from a single, central access point at any time.
This wealth of data gives rise to customer identity management, which makes interactions with your audience more personal. Customers make use of the aggregated information as well. Users can see what meetings, briefings and events they attended, and how they contributed, if at all.
Mobile Compliments Existing Channels
The important thing to remember is that mobile solutions are not meant to replace face-to-face meetings. Instead, mobile enhances conventional channels, while providing fresh opportunities.
The idea is to conduct smarter, more connected meetings.
The best solutions bridge the gap between channels, taking an experience from mobile into the physical world and back. For example, following up with customers via mobile apps after a face-to-face meeting has been conducted. You must make the best use of all these tools.
The customer experience extends beyond the physical meeting, well beyond the walls of your office or EBC. Even when the customer journey is not on your mind, it's still happening. So, it's important to provide an omni-channel approach that services modern business needs.
Before we send you off, remember this. Gartner estimates that by 2020, over 40 percent of all data analytics projects will relate to one aspect of customer experience or another.