Hot Off The Press: Learn All About the News Feature!
News Feeds: Deliver an ongoing stream of informative, contextually relevant content
Mobile news consumption has risen 33% in the last 4 years.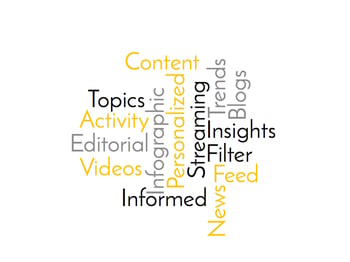 What: News feeds aggregate all the content your users want all in one place by collecting different types of editorial content that is relevant to your company, industry, event, or community.
Your mobile app network can explore a selection of topics from your top news sources that will pique interest, spur creativity, and keep them up to date on trending topics around your industry.
Why: When it comes to thinking about the different channels you have available for reaching your customers, creating awareness, and getting closer to loyalty, a content feed could be just the answer. Easily accessible news for modern consumer's on-the-go lifestyle support the customer experience journey by serving up the right information at the right time.
By creating informational, 'snackable' moments you are offering a source for perpetual engagement to users, members, attendees, partners, sponsors and so on, through a mobile-first mindset.
These activity feeds encourage users to stay in your app longer, come back more often, learn, and engage, making it easier than ever to find the stories that matter most to them.
Use Case Scenario For Streaming News Tactics and Customer Experience
Sandra Partaker, Senior Account Manager at Rapid North, is a member of the Silcom Tech Partner Community. A community member for 3 months, Sandra is able to engage with other partners within the Customer Experience app while staying up to date on all things Silcom Tech, and digitization.
As an integration provider for other industries and a leader at Rapid North, Sandra takes pride in having her finger on the pulse of what is happening in technology and innovation around her. In fact, Sandra's favorite feature in the CXApp is the news feed. The Silcom Tech news feed is an added bonus because she is able to get additional viewpoints on trending topics as well as strengthen her knowledge on integration touchpoints and solutions that affect both Rapid North and their customers/partners.
The news activity feed in the app provides a constant stream of news, blogs, thought leadership, and videos that are instantly accessible. When Sandra first setup her account, she configured her news feed to be tailored to show content related to 'Solutions', Thought Leadership, Services, Processes & Tools, Digital Transformation, and specific executives at Silcom Tech, Including Robert Leads (VP of Technology and Solutions).
Today, while sipping her morning coffee, Sandra scrolled through the news activity feed and clicked on a few articles. She saw an article that was rather timely, so she shared "Meeting the Demands of the Modern Consumer" with her colleague Izzy Scaling, Director of Operations. She thought it raised some great points about the shift and evolution of customer experience that would be a good reference for their All Hands meeting this month.
15 minutes later, Sandra receives an alert from the CXApp indicating that Robert Leads has just published a new article "Empowering Business Interactions with Connected Devices". She clicks on the notification and reviews the blog, where Robert discusses trends and stats related to IoT and Silcom Tech solutions.
Sandra 'liked' the blog and also shared a comment "Proactive services and support through connected devices are going to be a make it or break it factor in the next 3 years".
Sandra then continues getting ready for work and knows that if she wants to read any additional thought provoking editorial content, it's only an app away!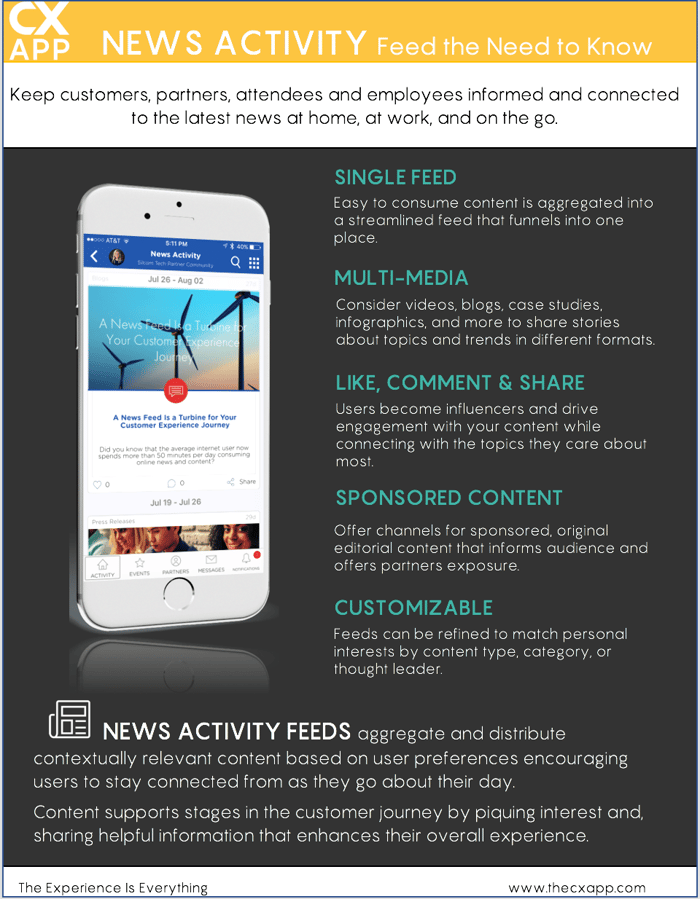 Ready to leverage News Activity Feeds as part of your digital transformation strategy?