Become A Thought Leader Through Engaging Content
For modern businesses, there are dozens of ways to advertise your products, services, and events. You could, for example, shell out $5 million for a 30-second ad spot in next week's Super Bowl. But according to Fortune, fewer companies are fighting over Super Bowl ad spots this year than in previous years. While this could be a result of lower ratings for NFL games, it's more likely the result of brands finding less expensive and more effective means of marketing.
As consumers are increasingly adopting ad-blocking software, fast-forwarding through television commercials, or using services like Netflix, brands have been forced to find new ways of earning the attention of audiences. Many have turned to content marketing, for good reason. Consider these statistics:
If you've heard the phrase "content is king," these statistics show why the statement isn't hyperbole. Content marketing isn't advertising content, so it's not impacted by ad blockers. It's less expensive than other forms of outbound marketing—and more effective. In some ways, content marketing has completely replaced traditional marketing practices.
For events, content marketing can generate more ticket sales, amplify interest, and boost engagement. Event content helps keep people informed, and it fosters a sense of community by creating experiences people can share, comment on, or derive inspiration from.
Types of Content Marketing for Events
When people think of content marketing, blogging is usually the first thing that comes to mind. But blogging is only one of many forms of content marketing you can create to drive engagement, inform audiences, and promote your event or EBC:
Blog Posts: Your blog should be the foundation of your event content marketing strategy. Blogs increase the number of keywords you rank for and invite comments and discussion. For this reason, blogs offer the best of both worlds when it comes to engagement—blogs draw in new audiences through organic search and engage existing audiences through discussion. A blog is also an excellent place to promote your other types of content.

Infographics: Visual content gets 84% more views, 94% more clicks, and 40 times more shares, according to this infographic produced by Bandwagon Digital Media. Infographics present information and data in a visual format that is easy for readers to consume. When paired with a blog post, you can cater to audiences who prefer to consume information in written and visual formats.

Multimedia: As an event organizer, you want to grow attendance for your event, and one of the best ways to promote excitement and anticipation is by previewing event sessions. Drive excitement and encourage ticket sales by publishing a live stream of one of your more popular sessions to social media, or offer teaser content by interviewing prominent speakers and publishing the interview as a soundbite or video. What's old is new again, so we're seeing a re-emergence of content reimagined in the forms of audio-casts and gifs. There's plenty of tools out there to create something different to mix up more traditional means.

Case Studies: When making purchasing decisions, B2B buyers want to view success stories from similar businesses: 73% view case studies as part of researching a purchase. Case studies review how other companies benefited from a product/service and drive conversions. But let's go back to the thought of infographics and visual click-through rates. A case study doesn't have to be a stream of consciousness or scientific words on paper, they can be visual and fun and draw in bold graphics and design elements that callout the important information that matters most to your customer or event attendees.

Social Media: Content marketing and social media marketing are often considered two separate types of marketing, but any written communications are technically content marketing. Linking to all of the content you create on your social media profiles is a great way to grow your audience and generate interest. On Facebook, more than half of users report spending almost an hour a day reading news and articles on the platform. Think of it less as two separate streams, and more as an extension of your current content programming.

White Papers: White papers contain highly detailed documentation that highlights the benefits of a product or service. According to research from Demand Gen, 82% of B2B buyers use white papers to make purchasing decisions. When you want to drive home the benefits of products/services presented at your EBC or event, white papers are an excellent follow-up form of content marketing.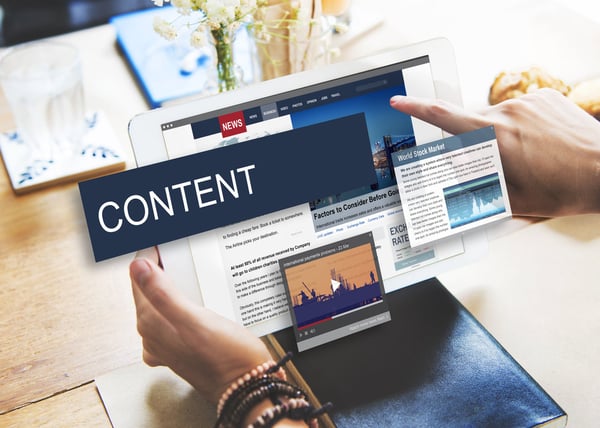 In addition to these types of content marketing, don't discount email marketing. While email marketing lost favor for several years because it was highly abused, it can still be an effective means of communicating with audiences. Just make sure that you don't send emails too often, and that the content in your marketing emails is relevant and meaningful—not simply promotional.
Content Marketing Best Practices
While content marketing can be an effective means of driving engagement, capturing new leads, and growing brand recognition, an effective content marketing strategy is crucial. Before embarking on any content marketing initiative, you must first define why you're doing it, and who you're seeking to engage. This will help determine what types of content you create and where you promote it.
For example, if your goal is to attract more executive buyers, you may want to focus on long-form written content like white papers, blog posts, and case studies: 85% of executives prefer written content over video and audio when making business decisions.
On the other hand, if you want to grow event ticket sales and event awareness, you may want to focus on creating infographics, live streams, and video content, and publishing these types of content to social media sites. These visual content types receive more shares, and are more likely to get your content—and your event—in front of more people as they're shared across social channels.
Start by defining your content marketing goals and your targeted audiences, then move into decision-making on what types of content you want to create, where you want to publish it, and how you want to promote it. In fact, a more modern approach would be including a content stream with your mobile marketing initiatives. If you have something similar to a social stream already in place on a website or a mobile app, then the logical next step would be to create or fuse in a content stream that's backed by your thought leaders, wordsmiths, and team members for a more holistic approach to your program's initiatives.
With a solid strategy in place, you can begin to reap the rewards of content marketing by growing your influence, generating interest, and driving engagement using an approach that is both cost-friendly and more effective.