Book It!
CONTACTLESS DESK & CONFERENCE ROOM BOOKING
Our custom Book It! technology creates an contactless way to book a desk or conference room via the mobile app and near-field communication technology.
NOTES
Simply hold your phone up to a

Book It! [NFC] sticker

to automatically get a booking request in your mobile app.
It takes

one-touch

to simply reserve the space you are requesting access to.
Booking the space will send user details from the app profile and

sync it with your booking software

to reflect availability

in real-time.

Stickers

can be placed anywhere:

on desks, on conference rooms, on iPads, on collaboration pods, it's up to you!
RELATED CONTENT
---
Food Ordering
SOUP'S ON... ORDER UP!
In-app mobile food ordering is now available! his feature provides daily menu access to all on-site cafes and food ordering kiosks for convenient access to meals and snacks.
NOTES
Ability to select a pick-up time that matches with your schedule and availability.
Users will receive a notification when order is ready for pick-up with ability to click-and-go with live maps.

Concession integrations in the workplace are hot right now, so we'll be releasing more innovation around food ordering this year.
RELATED CONTENT
---
Growing Partner Ecosystem
WE WORK SMARTER AND BETTER TOGETHER

A holistic partner ecosystem is important for the workplace because no one system can do everything! We believe that true innovation lies in the heart of how different technologies work together to create a streamlined digital front door to the campus.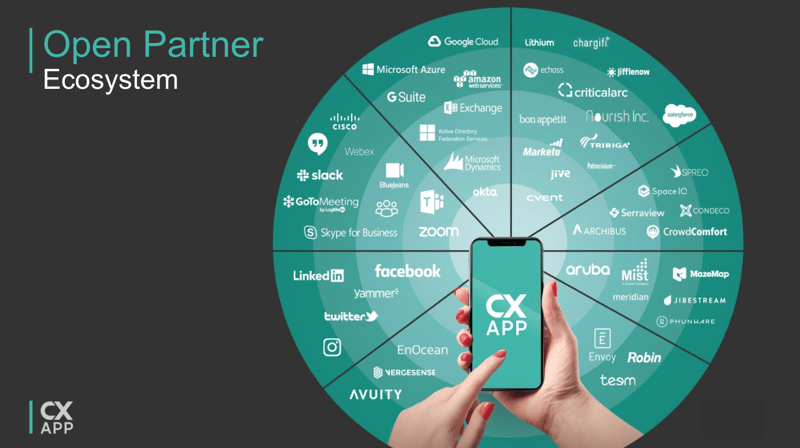 NOTES
We are now integrated with 75+ partners and 3rd party software applications.
You can access our full partner list here.
Most recent integrations include Nourish with the

mobile food ordering.

Want to become a partner -

book some time

with Alex so we can discuss!
RELATED CONTENT
Want more? SIGN UP HERE to get release notes delivered straight to your inbox each quarter.
**For more information, please contact Alex Le