The CXApp Has Been Nominated as a 2019 Timmy Awards Finalist for the 'Best Tech Startup'
Each year, with the right amount of success and perseverance, tech companies around the world have the opportunity to be nominated — and potentially win — a series of awards. As you might expect, the core focus of an award differs based on which company and purpose it's being presented. One company might win for having an exceptionally designed website, another might win for the practicality or efficiency of its products.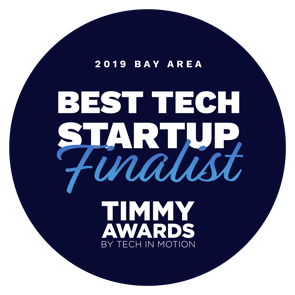 It so happens that The CXApp has been nominated for the 2019 Bay Area Timmy awards as the 'Best New Startup' and we couldn't be more thrilled to be recognized this year!
Our Team and Quest for Innovation
We built The CXApp from the ground up, and aim to be the premier provider of mobile solutions for digital customer, attendee, employee, and member experience programs.
Our SaaS platform provides an out-of-the-box experience via a single mobile app, with platform features spread across several 'solution' pillars: Events, Meetings, Digital Communities, and Campus.
Many of our prestigious customers are featured on the Fortune 1,000 — e.g. HPE, Cisco, Lenovo — and are a testament to how big our technology is, and given such a small team that is powering it, we truly believe we are more than qualified to receive the Timmy Startup Award in the Bay Area.
It's no secret our team is trying to solve common in-person 'experience' challenges in a digital world, and are constantly uncovering new ways of thinking, creating, and doing. The question is, how do we do it all?
Our team of talented innovators, builders, creators, strategists, specialists, and validators are focused on powering world-class customer experiences.
Our CEO, Leon Papkoff, champions that "customer experience is built into our DNA as an organization. We bake it into our culture so we can lead our 'customers' with the same vision". It is exactly this mindset that empowers our entire organization to perform, iterate, and create the best mobile app platform in the market.
Our leadership team puts a large emphasis on people. We believe if you invest in good people and empower them in their workspace, then it will result in a great product. By investing in people more than driving business and profits, we're able to share in a common goal: to be the very best at what we do in each of our product solutions.
In any case, we are incredibly proud to have been included as a finalist in the Timmy Awards and are looking forward to the announcement of the winners… may the odds be ever in our favor!
'Best New Tech Startup' Category and The CXApp
The 'Best Tech Startup' category includes two separate awards, one for Judge's Choice and one for Community Favorite. All Timmys finalists in this category have been chosen for their innovation, forward-thinking leadership and welcoming work environments — something that is quite rare in today's landscape.
"These companies are not only attractive to talented professionals nationwide, but ones that strive for everyday innovation," says Walker.
If you'd like to participate you may help select the 'Community Favorite' by voting online. Winners will be announced in October during the Timmys live ceremony.
About The Timmy Awards by Tech in Motion
Of course, the Timmy Awards have taken place in cities all over the country including New York, Washington D.C., Boston, Chicago and even outside the U.S. in Toronto Canada. But this is the first year, the Timmy Awards by Tech in Motion, has honored tech companies specific to the Silicon Valley's 'Bay Area', our stomping grounds.
"Every year, the event series grows alongside the tech community. It reflects the increasing quality of startups here that we are able to offer two awards this year to keep up with the growth in the industry," says Mandy Walker, Director of Marketing at Tech in Motion.
Tech in Motion is an international event series focused on uniting local tech communities, with the goal of helping everyone connect and network, broaden their knowledge and understanding, as well as encourage innovation in the field.
"What started as a collaborative project in 2011 between IT recruiting firms Jobspring Partners and Workbridge Associates, part of the Motion Recruitment network, grew into an organization of over 190,000 members across 12 chapters in North America."