Workplace culture is transformed.
Employee experience is a huge priority. But what employee experience looks is also transformed. An employee app is the primary technology emerging post-pandemic that is helping companies bridge the gap between on-site and offsite employee experiences - a major sticking point for the future of work.
Transparency has come to the forefront.
Especially with a distributed workforce, there is a higher reliance on newer and more current ways of sharing company information and keeping employees informed and engaged.
And the big question workplace experience managers are trying to solve for ….. how do you manage it all?!
Mobile-First Value Propositions
Collaboration and communication are key for all employee experiences and an employee app acts as a way of making workers more comfortable when they come back to the office by creating consistent experiences across the workplace – whether you're in or out of the office.
And when you're looking at maintaining company culture across dispersed teams and a distributed workforce, it's nearly unavoidable to turn to an employee experience that's mobile-led.
Here's the top value propositions of an employee app: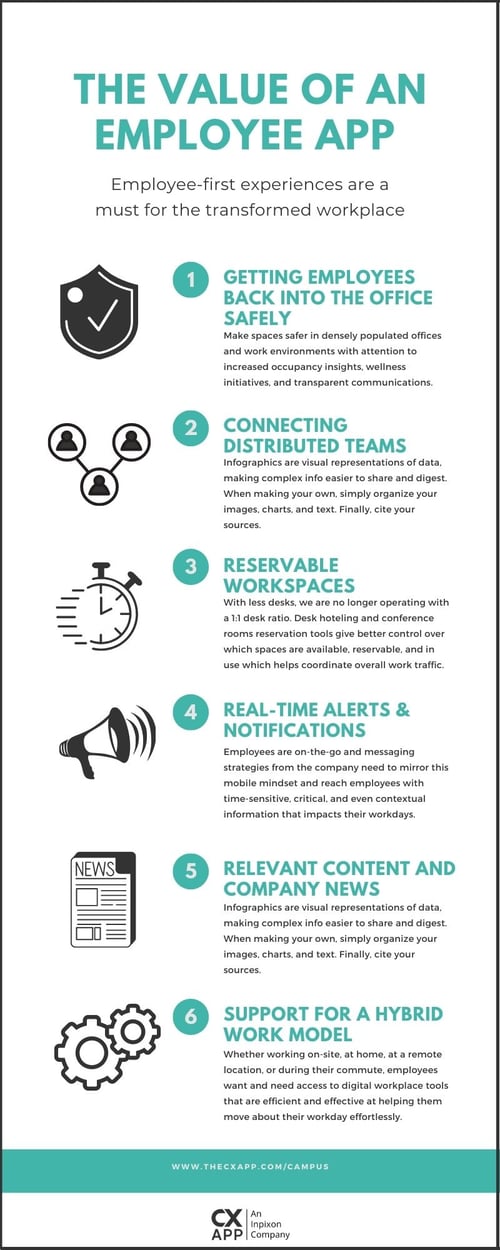 Smart offices begin with smart technology
In a recent webinar, Leon Papkoff joined Robbie Pitts of One Workplace and Chris Wiegand of Inpixon to discuss how to reopen offices safely and address the anxieties that have arises in the corporate enterprise when it comes to employees returning to the office after a year of working from home.
The key - flexibility. Flexibility in workplace expectations, work environments, desk and space usage, technology, communication, and company's back to work policies.
>> Listen to the full webinar on-demand here <<