Generally, technology is meant to simplify our lives, by making tasks much easier to complete, helping us organize information, and also by providing more direct controls. This extends to all facets of our lives, from personal to professional.
But as much as we want technology to make things better, that's not always the case, especially in the corporate world. With the intention to deliver a more positive workplace experience, many organizations employ modern technologies to facilitate various tasks. For example, a communication tool might allow team members to send out blanket messages to the entire crew. Another electronic bidding system might allow workers to reserve or bid on company spaces, such as an office or conference room.
While these solutions do tend to offer assistance, there's one glaring problem. Many of them are delivered via separate applications or instances. You might use one platform to reserve offices, another to order lunch in the cafeteria, and yet another to communicate with your colleagues. Sadly, this is the norm in the average workplace. Often, there are many disparate and proprietary systems, all designed to handle a single task or purpose. The reality is these systems are hurting your company more than helping.
Have you ever stopped to think why this is? Why are there so many different tools and platforms that don't simplify anything but disconnect the average workplace experience? How much more effective would it be if all of those systems were united?
The good news is there is a real-time communications tool that handles everything. Before we talk about what that tool is, let's explore what it truly means? What does a "whole campus" or comprehensive solution look like?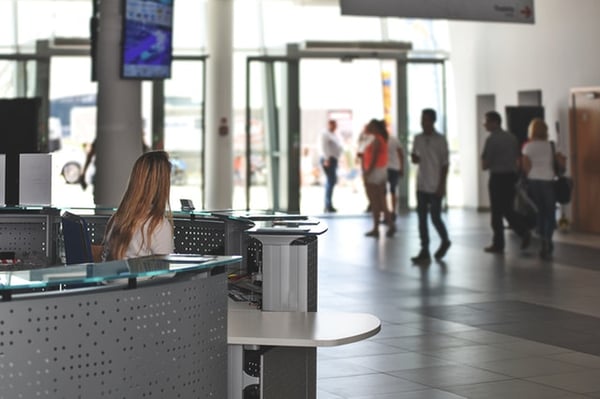 The Many Parts That Make Up a Whole
To genuinely offer a comprehensive platform for venue operations in the corporate world, there are many functions that must be assembled under one application or service. That includes:
Communications:
Connecting the workforce is instrumental to smooth and successful operations. The right solution provides a distinct space for this, allowing employees to converse with one another, deliver social and work updates and organize creatively. Increased communications typically lead to improved employee experience and awareness.
Networking and Collaboration:
Beyond direct communication, there are times where it's necessary to support networking and collaboration between departments, peers and even roles. The right solution allows for this in a seamless, organization-wide system. Content, collateral, shared resources all need a method distribution and access to facilitate day-to-day operations.
Social and Engagement:
Corporate culture isn't just about work and professional experiences. People spend most of their daily lives in the workplace, which means there's always a social element in and outside of normal work hours. Sometimes it's necessary to boost employee engagement or creativity through non-work related activities. That's where social and employee engagement functions come into play.
Resource Allocation:
Modern workplaces are moving away from the assigned space model, especially as more and more professionals are swapping to customized and work-from-anywhere structures. That doesn't change the fact that on-site spaces must be properly allocated. The right solutions allow for real-time management and reservation of flex and shared spaces, to ensure that everyone has a place to work. More importantly, it allows for efficient use of company assets, particularly when it comes to equipment, offices and rooms.
News and Information:
How do you effectively distribute company-wide news and announcements in a desirable and engaging way? Your employees inherently want to know the 'skinny' on anything happening in your organization from the CEO, to team wins, and even general commentary. Pertinent information and social discussions should be accounted for in your culture and can manifest in different forms such as a news feed, blog, podcast, or social media-like announcement.
Extras:
Finally, your 'whole' campus experience should account for any number of extraneous features and opportunities like employee perks, amenity access, dining and food menus, work-related exercises, internal events, and even group meetups outside work. Anything additional that deposits into the workplace experience should be considered.
>> See How We're Embracing IoT To Create A Smarter Workplace Solution
Must-Have Features and Opportunities
The top priority is to deliver on-the-go and always-on tools that support anywhere access — often denoted as a mobile-first mindset. Not all employees will be located on company property, yet they'll still need direct access to working systems. Someone on their day off, for example, might need to reserve space for the rest of the week. In that case, it's always a good idea to provide mobile-based support where they can do it from any type of device, including their smartphone.
This begs the need for a comprehensive workplace experience platform or ecosystem where everyone plays nicely, constantly has access everything company-related, and remains up-to-date with the goings-on. According to Quora Consulting, 75% of the brightest talent end up leaving their organization within two years, due to "disillusionment with the calibre of management and frustration with the unproductive, poorly optimized workplace design."
The beauty of smart, connected platforms is that they truly offer customized and contextual experiences, something that everyone desires in this digital-centric world.
The True Meaning of a Whole Smart Campus Solution
Ultimately, if you combine everything that's listed above — including all features and experiences — you end up with a "smart campus," or one that is synchronized in every way possible. Not just in terms of communication and organization, but also the facilitation of events, individual experiences and the distribution of corporate assets.
To achieve a truly "smart approach" to the modern workplace experience, it requires knowing who employees are and serving up personalized experiences such as custom content or messages, addressing workplace requirements, and more. It also helps to improve the general inefficiencies of the day-to-day work-life.
And since today's employees are digital natives, it makes sense to provide a seamless platform or application-based experience that unites everything they would ever need under a single interface