If 2020 is the year of 'work-from-home', could that mean 2021 is the year of the distributed workforce?
Work from home is likely not the new normal. For now it is, but what is normal will continue to shift and change in the next month, 3 months, 1 year, 5 years. We don't know when we'll see a full return to the workplace, but we can be sure there will be 'WFH' capabilities long-term. But in the interim, the mass of remote workers and those re-entering the workplace has led to an increasingly distributed workforces.
Looking beyond the current 'normal', preparing the workplace for a return en masse is critical for all large organizations. There are things IT teams and cross-functional groups can do to set-up the workplace for success such as increasing communication, creating low-touch environments, and automating interactions in high exposure areas.
Key Components Of The New Workplace
COMMUNICATION The more you share from an organizational standpoint, the more informed employees feel. The more information there is, the better equipped employees will be to make decisions about their day to day work lives.
COLLABORATION Productivity improves when tools are easily accessible for anytime, anywhere work models. A centralized hub of information, resources, and interaction touchpoints provide a digital front door to your campus.
CONSISTENCY Siloed workflows and tools increase disruption in the work environment. When it comes to your the workplace and the culture you create, defined, accessible, and consistent protocols for how and when we work and the tools we use bring employee engagement to the forefront.
A CoreNet Global survey details 35% of workers plan to return to the office in May 2020, 30% in June, and 33% are unsure when. That's where the connected employee comes in to play, making sure they have access to use cases at every step of the employee journey and wherever their 'office' may be.
A look at the connected employee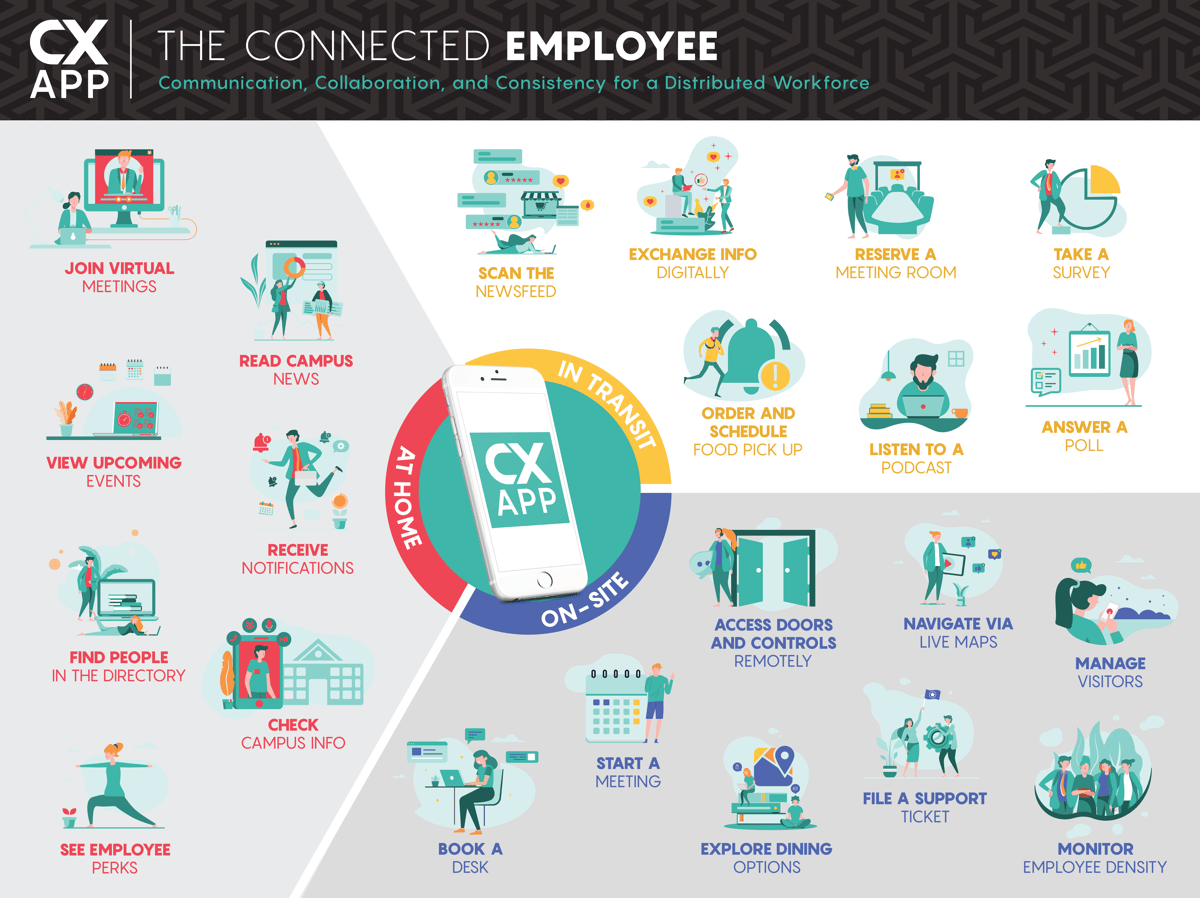 Technology As An Enabler
The future of work is connected, and this means investment in IoT, mobility, and cloud solutions to keep the people and technology in the workplace communicating with each other, machines, access points, etc. Anticipating a drastic shift in the workplace, companies will need to get on board faster with connected devices and technology infrastructures that can support advanced use cases for keeping the workplace safe in the future from internal and external threats to employees, productivity, innovation, and more.
Use this Return to Work Planning Guide to help you prep workplace protocols starting now!