Every business should focus on providing a consistent, cohesive and seamless omni-channel customer experience. The problem is that today's audiences want something more, something with much more fluidity. There is a gap between what customers want, what businesses think they need, and ultimately, what is actually delivered.
A whopping 83% of consumers want the ability to move between channels when talking to a brand, but only 50% of companies support such a thing. That includes moving between digital channels and tools to more physical interactions — like in-person.
Customer experience is always changing, evolving, renewing. Customers come and go. Transactions are fast-paced and long-tailed. Business and transactions are growing at hyper-speed. But above all else, the way we communicate and 'do business' is really the bottom-line of future customer experiences. It permeates all interactions and is the core goal for delivering immersive, successful omni-channel programs.
The 2020 Customer Experience Trends That Matter
Solutions that can help close the gap are much closer than you'd think. Emerging trends in 2020 are targeted at trying to close the CX gap:
Dedicated Departments
In the past, customer experience roles were highly dispersed, separated into other jobs and departments, such as sales, marketing and administrative units. Today, the focus is being given to new and emerging roles — like Chief Customer Experience Officer — to create a dedicated program for delivering business-level customer experiences. Departments and strategic growth models are being created to this end. As we've seen in other niche ways, companies with an engaged Chief Digital Officer, for example, are 1.6 times more likely to report successful digital transformation initiatives.
It's all about taking the roles that were once separate and creating entirely new channels, with the express goal to serve improved CX operations.
According to PWC, 75% of all people agree that customer experience is an important factor in their purchasing decisions. Customers demand better treatment and are willing to pay more for it. Yet, just 49% of U.S. consumers say that companies provide a good CX today. These stats highlight the need to have specialized roles, working specifically towards the optimization of CX.
Starting From the Inside
Organizations are taking a long look at internal groups and seeing how to effect a change from within. Employees are a great testbed because they are so closely related to customers, in many ways. Similar touchpoints can be incorporated into the employee lifecycle that mirrors what a customer might want or need from your business.
Delivering good employee experiences lead to excellent customer experience — they go hand-in-hand. On average, customer retention rates are 18% higher when employees are highly engaged.
Innovative Dialogue
Amidst all the chatbots, algorithms, robocalls and automated systems, customers can be satisfied by low-level inquiries. Simple questions. For businesses, however, faced with the need to understand strategy, vision and the core components of an operation, open dialogues are always necessary.

More importantly, once the customer converts and comes onboard it's even more crucial to keep conversations open, and flowing in two-ways.
A Salesforce Research report reveals that 76% of consumers expect companies to understand their needs and expectations. Customers need to feel like they're being heard, and that their concerns, likes and problems are noticed. Even more so, they want to know you're acting on that feedback, whether that is eventually rolled into individual or more general experiences in the future.
Staying On the Bleeding Edge
Tools are becoming more expansive with each passing day, as more and more features are added to round out the overall functionality. It seems like just about everything is moving from being a single, focused application to a "suite" of tools or options. It reflects the mindset of the modern customer.
Digitally mature companies are 26% more profitable than their less mature peers. They also achieve 12% higher market valuations over larger firms in their industries.
Customers don't want to be using outdated or archaic means to achieve their mission or to communicate and interface with organizations. They want always-on, reliable and seamless tools that prioritize convenience and value. That's precisely why businesses are always so willing to stay on the bleeding edge, striving to own and use the latest and greatest tech. They want the best of the best and they want it now.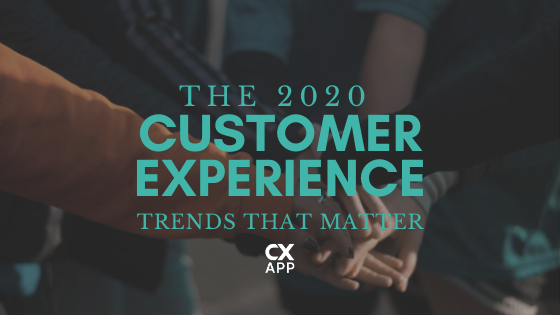 Technology: Help or Hindrance?
At a glance, it's not difficult to see that many of these trends point to a highly-personalized experience for customers. It just goes to show that the "art" of customer experience has never been more important. Crafting a highly-pointed and relevant program is absolutely necessary, that is, at least, if you want to succeed.
The good news is that technology can aid in the creation of highly-personable experiences, further improving the impact and accuracy of an end-to-end journey. If you're not careful, though, it can also detract from those kinds of experiences. It's ok to be choosy with your tools and services.
The goal is to find platforms that support your strategy and initiatives. If your customer wants on-demand access – go with chatbots and AI. If your customer wants a connected experience - go mobile. If your customer needs more emotional support – go social. If your customer wants to be courted – go to them! Despite how prevalent digital experiences are — or maybe even in spite of them — in-person interactions are still just as important as ever.
Find what it is your customer needs, and build a program that delivers.