Despite some rather valiant efforts by organizations, many of today's customers feel incredibly disconnected from the companies around them. A large part of this issue has to do with poor customer experiences, which is well known, but to build engagement around the customer experience is a bit of a black hole.

While 81 percent of businesses in the US and UK believe they are customer-centric, only 40 percent of their customers agree that it's true. This is valid in every industry, including those not dominated by consumers.
One of the most successful ways to combat such a problem is to build a forward-facing community, that not only keeps customers engaged but delivers a great deal of value to their overall experience.
One area, in the enterprise, that can benefit from fostering a better engagement model is the Customer Experience Center or Customer Experience programs. These are departments and often times large, high-touch physical spaces within the company that serve as a meeting ground for customers, subject matter experts, relationship makers etc.
The Role of the EBC/CEC for Building Engagement
Ultimately, the CEC (customer experience center) or EBC (executive briefing center) acts as a bridge to link up a brand or business with its customers. The general goal is to better introduce, familiarize and service customers that are interested in a business's products or opportunities. They come in, meet with potential brand representatives or CEC managers, and hopefully leave with a better understanding of the organization and its many offerings.
EBC and CEC managers know the people well, they know the brand, they know the message and who better to connect it all, in person?
Yet, many of these experiences focus on in-person and hands-on — more direct, if you will — demonstrations or interactions. They're explicitly designed to engage audiences in a one-on-one session. It makes for a great face-to-face experience, but what happens once those customers leave the center?
Do the in-person experiences fall flat after the customers exit the EBC or CEC doors?
The answer is - absolutely - if your managers and representatives are not focused on perpetual engagement, which is an integral component of adequate follow-ups.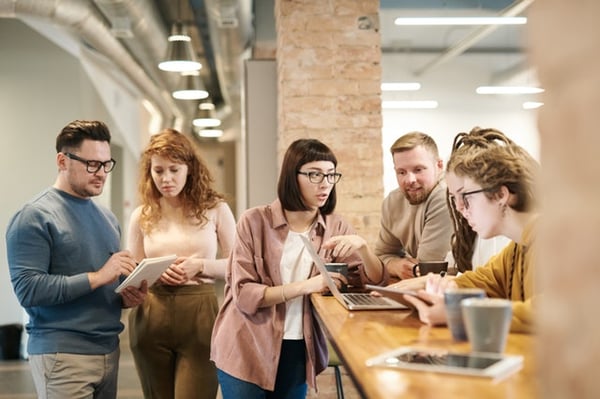 What Is Perpetual Engagement?
For almost every business, making the sale is a huge focus initially. Once you have that buy-in you can work towards increasing or bolstering customer loyalty. In turn, that will hopefully generate repeat business, if not less direct profits from reviews, recommendations and the like.
The key is building perpetual engagement, which essentially calls for establishing a long-standing rapport with customers. It keeps the relationship moving forward, and is a great way to leverage future opportunities or create them. The same is true for EBC, CEC, and any other type of sales enablement engagements. By keeping customers on the hook, it provides an incredibly positive experience in-between on-site visits and in-person events. So, you want to keep a relationship open after a client or customer exits the doors of your facility.
The problem — or puzzle — is building a perpetual engagement model that keeps them interested, clued-in, and builds positive sentiment.
Introducing the Modern Digital Community
Enter stage left, the concept of the modern digital community. Think, mobile social media and online experiences like Instagram, Facebook or even corporate network applications. A digital community is, hands down, one of the best ways to keep visitors, customers and everyone else an active part of your company's story and culture.
Beyond just the social media examples, building an experience that centers on corporate culture is the true focus here. We're talking about a digital and mobile experience that encompasses anything and everything that your average audience would need, from customers to personnel alike.
Here are a small handful of things that digital communities can offer:
By compiling everything your customers need in one single, convenient hub you're saving them lots of time and effort. They have all the resources they need and they don't have to spend extra time locating or researching alternate solutions.
Open communication,

mobile-first experiences

, and digital-centric platforms help strengthen loyalty between a brand and its customers. You're helping them, many times improving their lifestyles in ways they never would have expected.
Everyone has access to communication, from anywhere and at any time and it's instant. They can open up discussions with the brand, support teams, representatives and even their peers.
For brands, digital communities offer a way to build an ongoing relationship with clients further improving the chances of success. There's an internal aspect to it, as well,

connecting employees

,

managers and team members

under one platform.
Updates can be rolled out to customers, personnel and even partners in new and interesting ways. A news-feed can present universal content, while more direct and personalized notifications can be delivered via mobile.
As the community grows and more and more people become active, it provides a great deal of insight into the industry and niche. That includes insights from industry experts who weigh-in and interact with the community at large.
Proprietary apps and digital experiences provide an incredibly convenient opportunity for introducing new products, services and related info. It's available anytime, right when a client or customer wants it.
>> Looking for something virtual? Check out our Virtual Briefing Platform for an omni-channel approach?
For Huge Gains, Build a Community Around Your Customers
When incorporating a digital community component into any brand experience, you are effectively stretching the relationship beyond the walls of your business. You're able to meet audiences and customers exactly where they are, whether at home or away.
The digital brand presence that's generated is the modern equivalent of a corporate extranet. You're building a network, not in the conventional sense but a more social environment. Within the application or platform you're providing people with the tools and solutions they need to further a brand experience — you're giving the power to them. Although it seems small, 27.3 percent of customers use online brand communities to research a product or service they're interested in. It shows that people actively seek out others with similar opinions, experiences or even knowledge that they wish they had.
The reality is that people want to stay engaged with your brand, and they will do so willingly provided they have the right opportunities. That's especially true of existing customers that have been around for quite some time, but also customers that are interested in establishing loyalty with your business.
In the end, it also helps to reduce the entire sales cycle by keeping everyone updated, informed and active. Think of it as a form of ongoing communications or negotiations, but in a much more engaging and convenient form.