Content marketing is fun! Creating articles, guides, blogs, videos, short stories... you name it - lends itself to the more creative side of product and company centric messaging. But when it comes to corporate content marketing, it can at times be a bit frustrating or fruitless.
Content, at its core, has a variety of goals: inform, educate, delight, entertain, provoke, inspire, etc. When it comes to content type - be it internal or external this still holds true. But how do you break through the noise? There is so much content these days, on any topic, that if you're in charge of communications for your organization or running a community where you're responsible for educating members, you're likely constantly trying to find new channels, new topics, and new ways to break through.
Businesses publishing 16-plus posts a month get almost 3.5 times more traffic than businesses publishing zero to four articles. That's pretty impressive.
The Resurgence of Corporate Podcasts
One of the best ways to get your content in front of your audience is to make it easily consumable. This means mobile-friendly posts, formatted for smaller screens, bite-size content, and even methods for viewing now and consuming later. But most importantly it needs to be accessible 'on-the-go', which all of these aforementioned qualities factor in to.
This has led to the resurgence of the most easily digestible form of 'content consumption' on-the-go: podcasts. Firstly, if done correctly - they can be addicting. But also - it's a new type of content you can use to get your listeners thinking about and connecting with your brand. You've got their attention, you've got their ear... so do something with it.
By 2022, it's estimated that podcast listening will grow to 132 million people in the United States.
You're sold right? Or maybe we didn't have to sell you, you were already there and just need some help getting started. B2B podcasts aren't easy, we know that, but they can be hugely beneficial!
Ready to get started?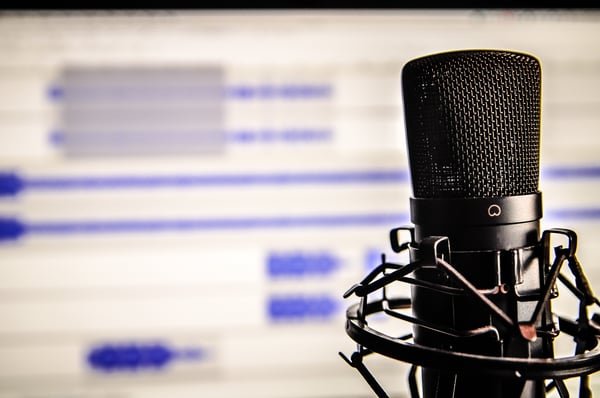 Helpful Hints For Kick-Starting A Podcast
Goals. It's always nice to start from the beginning. What are you trying to achieve and who is your target audience. Once you have that figured out, you can easily begin to map out several other items on your to-do list.
Branding. You'll want to be sure to bring your brand into the fold. If you have a niche audience, loop them in as well. Consistent messaging, tone, and branding elements that map back to your overall content marketing strategy will keep audiences engaged.
Podcast Name. Keep it concise and keep it relevant. If you are talking to a niche audience, then stay niche. If you're appealing to a larger audience, then go big and capitalize on SEO.
Show Format. Given the audience and your goals, what is the best format for your podcast? Is it interview-style? Do you want to have more control with a 1:many dialog? Is it instructional?
Introduction and Show Copy. Now that you have your format figured out... get to brainstorming your show intro and copy. A nice 30 - 60s intro that clearly depicts what your brand is about and what the show goals are will inform audiences from the get. But be sure to make it inviting and memorable, you have just a short window to capture their attention so don't lose it in the first 30s. Remember too, that this is going to be something they hear every time they listen in, so quippy, "jingle-esque' types of formats can't hurt.
Suggested Length. This varies. Depending on your content and subject matter, you may need for shorter or longer episodes. Your show format too. If you're working with a solo approach, then you'll probably want to keep it on the shorter side 15 - 20 minutes, so it doesn't become an epilogue. But if you have more than 1 person present, then you can take liberties to go a little longer because there is more than one person creating a dialog, so there is inherently more to say and more discussion taking place.
Topics. You probably already know what you want to talk about from a high-level. But before you get started, it might help to chart out the different topics or show episodes you want to hit right out of the gate. Who are the subject matter experts you can talk to to prepare for these shows and are there other people, companies or assets you want to bring into the fold. As a good rule of thumb, you should have at least a handful of episodes available when you launch your podcast so that there is some alternative shows to listen to after users finish their first episode. That will draw them in.... then you can begin to set a recurring cadence for publishing/frequency.
Ambiance. Think about what other mood boosters you can incorporate. Is there a particular music track or sound that is important to your company. Do you need to get help with voice-over or background sounds that might enhance your episode. Also, the host of your charge can enable a lot of this as well. We're all just trying to our best, so leaving in some natural non-fluencies, nervous chatter, or flubs just might make your podcast more endearing. But if it's professional all the way - then you can edit those out too! People tune in because they want to hear what you have to say - so just say it!
Cross-Promotion. Your podcast can live in several different places these days. Consider which channels are best for your audience and distribution., and think about more than one. The more places you're live, the more attraction you'll gain. Think small too. There are mobile platforms, like The CXApp, that have options for variable types of content in their overall solution portfolio. Native podcast players inside of a mobile app streamline content consumption for your audience without having to direct them to an external channel or podcasting host.
If you're a superstar, which i'm sure you are, you might be able to do a lot of this if not all of it on your own. But you'll likely need to enlist help from different resources or departments. At the end of the day, creating and distributing meaningful and relevant content is a shared goal across your organization, so embrace the challenge!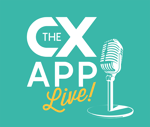 We have a pod! If you're a meeting planner or briefing specialist or driving on-site customer engagement, check out

The CXApp Live!