The old build vs buy conundrum. When looking at mobile engagement apps or software to help boost productivity, reduce overhead, or increase ROI etc., everyone is always faced with the question of should we build it in-house or buy it "off the shelf" so to speak from a software vendor.
It's not necessarily a problem if you aren't a software company or don't have a software division. But even still you might be faced with hiring a team to build you something vs buying a software product that's ready to go, like a SaaS model or platform approach.
Today's businesses are growing fast and required to quickly adapt to new trends, technologies, and ideologies in order to stay competitive, remain relevant, and attract top talent... let alone customers.
When you're given the time and opportunity to reflect internally and see what processes or tools you can use to influence internal culture, mobile engagement apps or workplace experience technology usually come top of mind.
Then you typically run down the track of assessing the following criteria to help you make your decisions:
Resources

Time

Cost

Security

Maintenance

And presumably more!
Investing in technology has to be something you can see immediate benefits from in the short-term, which requires a solid launch and on-boarding plan, but also having long-term benefits in place towards a common business value like employee engagement, workplace experience, customer experience and so on. To fulfill long-term goals for a business' bottom line, the technology has to be sustainable, flexible, cost-effective, and have low overhead - not to mention the ability to pivot to match rising trends.
Regardless of what your needs are today, when heading into a decision to bring on a more digital front-door to your workplace and company culture, you have to be armed with the information that allows you to make the build vs buy decisions.
Are you ready?
Let's take a look at some of the trade-offs when you buy vs build your companies mobile app for better experiences: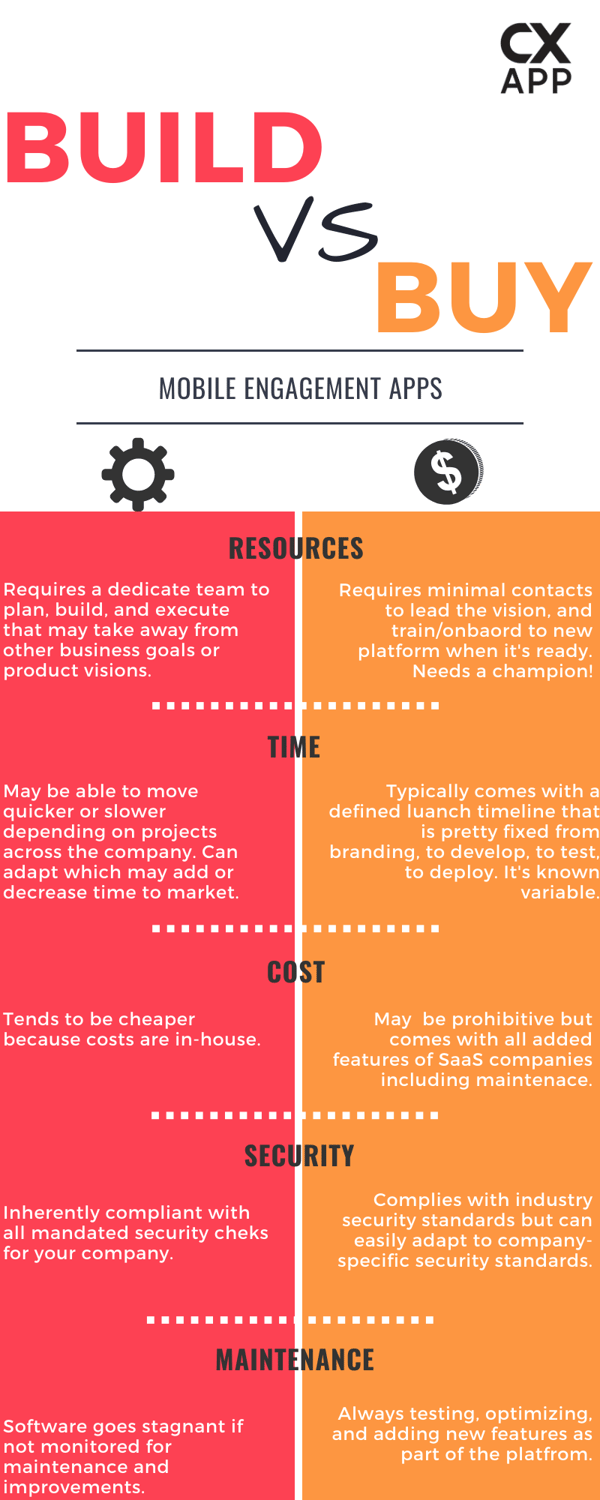 Get in touch with one of our experts for a one-on-one consultation!