Today's interactions are about distance and remoteness. Tomorrow's interactions should be focused on one step closer to togetherness and human interaction, slowly closing the 6 foot gap. Something happened, almost overnight, where technology became more integral than ever.
The tools and capabilities in place right now are a bandaid. And we need to think long term about how to heal and get back into a 'healthy' workplace state of mind.
It's not enough to have a proper remote work structure in place, with all the right tools, technology, and software. A cultural change also needs to happen across most organizations in order to strengthen the connections between colleagues and peers no matter how distanced we are or may be.
How could such a diverse and varied workforce even begin to prepare for all the ideas, scenarios, and eventualities that need to be explored? What kind of system allows for seamless moves between work from the office, and work from home environments while still maintaining a clear, real-time connection to the entire workforce?
Mobility is the answer or more specifically mobile apps. That's precisely why The CXApp has introduced a bevy of new platform features. Many of the new functions are meant to support enterprise organizations as they convert physical touchpoints into digital interactions to rethink and restructure high-exposure areas in the workplace.
Welcome to the Revolutionary, Contactless, Yet Strangely Connected Workplace
According to McKinsey & Company, The United States has seen a 20% increase in preference for contactless operations. Creating low-touch, yet highly accessible work environments will be a core principle going forward. The CXApp facilitates a unified workplace where employees have on-demand access to real-time communications and contextual experiences in one app from employee to employee, building to building, campus to campus, and worldwide.
A CoreNet Global Survey reveals the reality of today, 53% of employees will not begin returning to the office until June 2020 or later. Another 30% say it's still too early to pinpoint when employees will begin returning to the office. And 7% stated that employees have already begun returning to the office, or will do so later in May 2020.
There are many uncertainties surrounding the eventual return to work, for all. Contactless engagements and communication channels will be the key to a thriving workplace, to assure employees of their health, wellness, and value, but also to help maintain an operational business.
High-tech considerations for the new world include:
Creating more contactless interactions
Planning an IoT and device strategy
Implementing location-aware technologies to aid social distancing guidelines
Integrating remote access technology
Leveraging real-time communication platforms
The Future of Work: A Connected Ecosystem
Employee engagement very much relies on the satisfaction of employees, and that means ensuring their success and happiness. Even when we begin to return to work, outside of our homes, those connections will matter, perhaps more than they ever did before. Low-touch, contactless interactions will foster a 'return to work' and help bring back the human connection to the office while keeping employees safe and informed.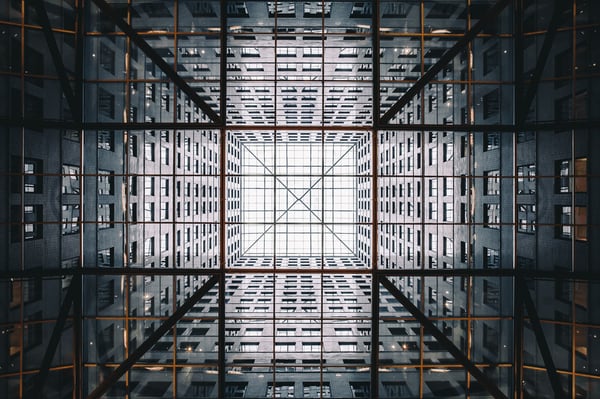 The CXApp consolidates these fundamental needs into one platform, with smart features that directly aid organizations during the shift to contactless environments.
Employee Density Monitoring
Mobile Food Ordering
Digital Badges and Authentication
Virtual Meeting Support
Conference Room Relay
Janitorial Request System
Touchless Visitor Management
Contactless Room and Desk Booking (via in-app scheduling tools, beacons, and near-field communication technology)
Each feature offers a 'touchless' experience, and The CXApp streamlines all digital touchpoints across your workplace into one central hub.
Undoubtedly, some industries have been hit harder and will take a longer road to recovery, but for those than can act swiftly, embracing a smart connected device strategy will be the path forward, a world of work where a mobile app becomes a controller, and command center, a meeting tool, and engagement specialist, and most importantly a connection point.
Get more insights on these features!