The Who, What, and Where
Directory: The who, what, and where of your campus operations
Workers with access to collaborative work management software were 85% more likely to identify as happy in the workplace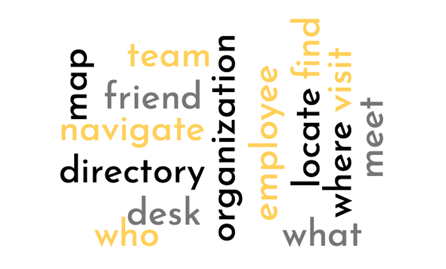 WHAT: A mobile app directory for your campus lists company personnel, employee profiles, team and organizational structures, and specific seating arrangements, desk locations, and conference rooms across your physical workplace. An immersive directory tool allows in-app guidance to these key spots and people.
WHY: A digital employee directory that goes beyond traditional wiki and intranets is the next step in employee engagement. The modern workplace aims to keep people connected to each other and the things around them, which is why an immersive directory tool that offers employee info, profiles, and live mapping to key people and places across your work environment is the next evolution of next-gen employee experiences.
Use Case Scenario For Campus Directories
Alexis Lively is a new Account Manager at SilcomTech. As part of her on-boarding, she downloaded the SilcomTech Campus app to help her in day to day productivity, connections, and awareness. SilcomTech is a huge campus sprawling 500,000 square feet to accommodate close to 1,200 employees. That's a lot of places and a lot of faces for Alexis to get to know.
On day 2, Alexis was curious to see who was part of her larger team, so she opened the Directory to look at the organization structure she is part of. She was able to view her boss, and her boss' boss, as well as other people that her boss manages, which was a great way for Alexis to learn about the different team members and direct reports. She clicked on a co-worker's profile and connected with them via the app and on LinkedIn effortlessly so she could become better acquainted. .
On day 3, she met someone in the cafeteria and wanted to learn more about them as they were kind and offered to give her some insights on a few projects they were working on as well as some insights on clients. So again, Alexis opened the Directory and looked up Jon B. Selling.
At the end of the week, Alexis needed to connect with Mary Plansit, Briefing Program Manager, so she could get a demo of the Customer Briefing Center and learn about some of their guiding in-person customer experience principles, so she looked up Mary in the Directory. Since Alexis wasn't too familiar with Mary was located and in what building, she opted to get directions to Mary's desk in Building A. Using the SilcomTech Campus app, Alexis easily followed the real-time directions straight to Mary just in time for their 10:00am meet and greet.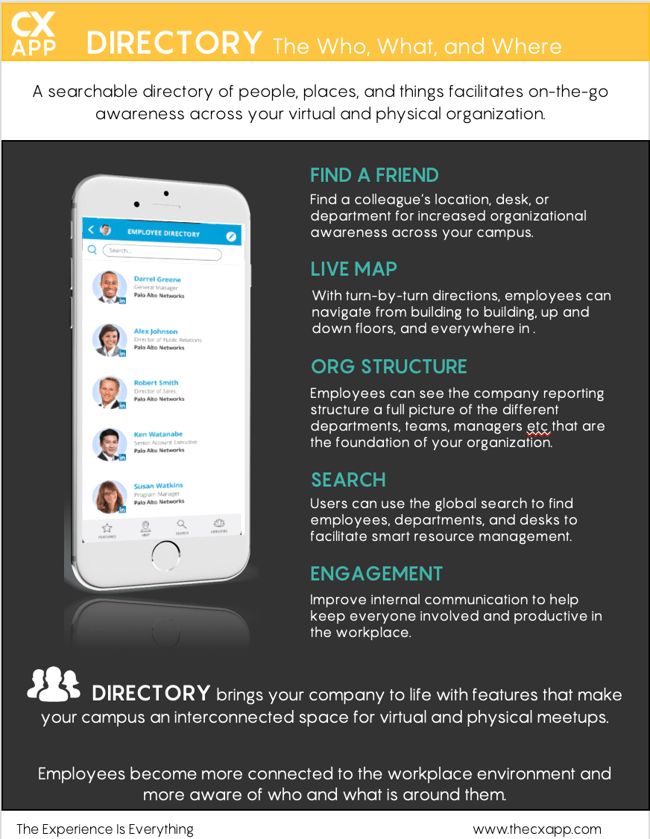 Want to increase your employee engagement?
Download the Directory Datasheet