The New Trend To Watch In Communications
One thing will always be true about mobile, it's a personal platform. On desktop or shared company-issued devices, the experience is largely the same. But, because the inherent backbone of mobile is – it's your device – the experience becomes tailored to specific user interests by the user themselves and often the data powering those interactions.
Consider your mobile experiences. Often, you are interested or required to install a specific app to do things like stay informed, have fun, get organized, research products, talk to other people, and the list goes on. As the saying goes, there's an app for that. Truthfully, there's an app for every type of need, and every type of experience.
There are features, apps, or types of apps that are more popular than others because of their usefulness. Then there are the features that are common amongst several apps that increase their usefulness, like messaging and communication.
Messaging services are designed to create targeted, purposeful, and more private user sessions. It just so happens that in-app messaging is right on the boundary of widespread adoption. More and more apps - social media or otherwise - are starting to incorporate this feature, and for good reason.
Facebook has had some form of messaging since it's incarnation. Snapchat and Instagram added messaging support not too long ago. Even Amazon is adding voice and messaging support for their Echo devices.
Mobile messaging is the preferred form of communication technology on the planet, with texting and SMS the obvious and most common medium. However, messaging goes beyond simple texting and SMS. The power of messaging is spilling over into other areas beyond our personal lives. A 2015 poll showed that nearly half of the adult population prefers chat or messaging forms of communication for interacting with businesses and customer service departments.
Are You Talking to Me?
Instant communications increase networking between customers, your team, and your business initiatives.
The goal of any community or customer base is to: gain awareness, pique consideration forethought, influence buying behavior(s), inspire loyalty, and nurture consistently. Now, this isn't a magic, cure-all pill, but there is evidence to suggest that the power of messaging within apps drives higher levels of retention so much, that it has the potential to be the future of communication.
When it comes to conducting, growing, or nurturing business with your target audience, think about this: in-app messaging can increase engagement ratings and regularly brings in ratings of 26% for medium-performance apps, and up to 44% for high-performance apps in the 90th percentile. Altogether, that's about 8x the response rate of push notifications.
This taps into the notion of perpetual engagement, the concept business goals are shifting towards with mobile workforces and consumer needs in this era of digitization. Information and communication need to be served up instantly, from anywhere, on any device, plain and simple. So, we can then conclude that providing in-app messaging as a component of your mobile strategy will keep your app, your environment, your consumer activity, your community – dynamic and ongoing. Ultimately, you want to keep your customers coming back.
In-app messages have been shown to increase app launches by 27%, because users always have a discussion to come back to. It's the same reason why content marketing works. An audience will always return to a blog or website to read new content and material, so long as it's compelling.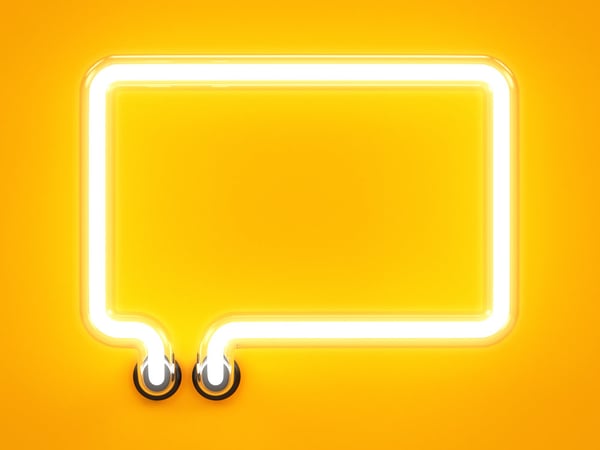 Yes, I'm Talking to You
It's all about "talking to you" or having that one-on-one personal conversation, whether for business means or otherwise. It means there are peer to peer and peer to business relationship opportunities from in-app messaging that are just as helpful, thanks to the added personalization.
What you may not realize is there's a big difference between in-app messaging and live chat. For starters, with messaging services, you don't have to wait around for a response. You can go do something else and come back to the app when you're ready. Plus, you never have to start a conversation over from scratch. The entire conversation history is there at your fingertips. It's also more personal because you get to have one on one conversations and interact directly with someone as opposed to a computer, bot, or rep reading from a script.
We're not just referring to private 1:1 conversations either, although that is a huge part of the in-app messaging experience. It's also possible to have group or party conversations.
Now We're Talking to Each Other
Trends suggest that there have been three waves of 1:1 messaging software: online buddy lists, SMS messaging, and chat apps.
With apps like WeChat and Weibo stretching their reach across the globe, more and more businesses are taking notice and incorporating similar functionality into their enterprise app experiences to capitalize on the power of 1:1 messaging.
Could this be the fourth wave? Integrated messaging capabilities within mobile communities.
Contextual messaging over shared interests and industries is a powerful collaboration tool that can generate all the engagement and interest you need, and can manifest itself in several forms: peer to peer, representative to consumer, one to many, executive to team or team member, and so on. In-app messages have higher click-through rates and for good reason. These short bursts of communication are coming from reputable sources and when placed within an organization's mobile app platform, contain more meaningful value with personal and professional implications.
Mobile is the preferred communication channel right now, so in-app messaging is the driver to take mobile app initiatives to the next level. When you think about your organization's reach, it's not necessarily location-centric. Business crosses borders, and when it comes to building a community around your brand or your product, membership has legs.
Being able to communicate via the most preferred communication in the most effective way will translate to higher revenues.
Not to mention, in-app messaging is cheaper. Cheaper you say? That's right.
Sending an SMS or text message can be up to 63 times more expensive outside the United States, but messaging apps either have a flat-fee or are completely free. Naturally, this drives the global adoption of enterprise and community apps and makes it a more affordable medium for communicating with customers and clients.
When it comes to technology and digitization, brands are just barely starting to scratch the surface in terms of what they can do with a mobile customer experience program.
Growth charts suggest that the ever-increasing adoption rates of messaging technology coupled with the an in-app, in-enterprise approach will be the 4th wave.