An Introduction to "Contextually-Aware" Tech
It's not uncommon for businesses to adopt new technologies and launch new marketing initiatives from a siloed perspective. When consumer adoption of mobile apps reaches a certain threshold, businesses launch a mobile app. When studies show that content marketing is more effective than paid advertising in generating new leads, businesses launch a content marketing initiative.
These programs materialize to generate the same successes other businesses are reporting, but jumping on the bandwagon without a holistic approach rarely leads to effective results. Many programs and adoptions fail because they were launched in a silo—businesses launched an app for the sake of having an app rather than considering how the app fit into their overall customer experience.
The most successful marketing approaches and technology adoptions are not created in silos. They're launched and created strategically as part of a connected customer journey.
The methodology behind incorporating IoT trends and programming into your customer experience journey is reaching the top of to-do lists for enterprises. But adopting IoT requires more than just embedding IoT products around event venues and EBCs. It means creating a customer experience journey that incorporates smart devices, integrated technology, and sensors strategically to fully realize a connected experience.
Technologies That Are Contextually Aware
There are a number of ways IoT technologies can be utilized within the context of events and EBCs. The first step in creating a connected customer journey is to determine which IoT applications will aid in achieving your business goals:
Mobile Apps: Mobile events apps provide significant benefits for EBCs and events enabling visitors to check in upon arrival directly through the event app, provide directions to the event venue—or even to the locations of presentations within the venue—present up-to-date agendas, and allow visitors to view other attendees and connect with them on social media channels.

Beacon Technology: Beacons can be installed in important places throughout your venue to deliver contextual messages to visitors via a mobile event app through in-app or push notifications. Alert visitors to important displays, provide additional information, or highlight promotions. Additionally, beacons can provide metrics on what displays different visitors viewed.

Digital Signage: Customer experience walls are large screens that are capable of displaying many different types of content. Install them in lunch or resting areas and continue to drive engagement during off-times. Signage can display social media feeds using event hashtags to promote discussion and social media posts, or generate excitement for upcoming sessions by providing more information about speakers.

Robots: Some airports and malls are already taking advantage of advanced IoT technologies by installing robots that answer verbal questions and provide directions. Robots that use chatbot technology can also be used at events to answer visitor questions and provide directions to important locations around your venue.

Bluetooth Low Energy Chips: Bluetooth low energy (BLE) chips are small components that connect to the venue's Wi-Fi and can feed information to collection systems. For example, if embedded into visitor's badges, BLE chips can provide heatmap information on the paths visitors traveled most frequently through a venue. This can be used to identify high traffic areas where important displays can be installed.
Once you've determined the types of technology that you believe can assist in meeting your business goals, you're ready to begin connecting the technologies to your overall customer journey to adopt IoT as part of a connected customer experience.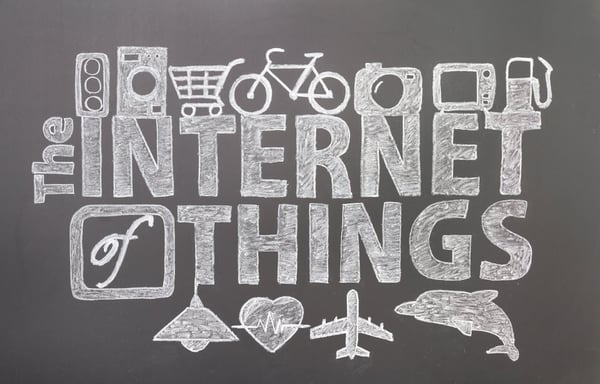 Creating Experiential Touchpoints That Talk to Each other
When hosting an event, the customer experience spans from the moment attendees hear about your event, through purchasing a ticket, traveling to the event, attending the event, traveling back home, and any interactions or purchases that occur during or after the event. Because each step of the journey forms the overall customer experience, you need to consider how IoT can assist at important intervals along the way.
A mobile event app is exceptionally helpful after a ticket is purchased. With integrated event agendas, speaker bios, and social media integrations, the event app can boost anticipation and drive networking between attendees long before the event begins. While traveling to the event, third-party integrations with Google Maps and Uber can assist with helping attendees find and navigate to the event venue, as well as nearby hotels, restaurants, and attractions.
When attendees arrive on site, they can be greeted by a customer service robot that directs attendees to a registration booth and encourages them to download your event app—if they haven't already—to access in-app directional capabilities, event agendas, session information, and presenter bios. Best case scenario, they already have your app installed, are you using it, and get greeted by your event 'robot'. The robot can also answer attendees' questions, pointing out the locations of coat checks, restrooms, or refreshments.
At registration, attendees can pick up their badges that have embedded BLE chips. The walking patterns of all attendees over the course of the event can be tracked, ultimately resulting in a heat map of the areas and patterns that receive the most traffic. If the event is a multi-day event, that information can be used for the next day's sessions, allowing you to move important signs and displays to highly traveled areas.
While attendees are navigating through the venue and past displays and booths, strategically placed beacons can inform visitors of important, nearby displays. Communicating with a mobile app, beacons can send targeted, individual promos and alerts straight to the person's phone. In the chance that they are passing by a customer experience wall, the app and beacon can all communicate together to encourage attendees to view event content, create their own content, or even apply for a sweepstakes.
After the event, you can use the significant amount of data you collected to convert leads and improve future events. Beaconing data will provide detailed information on which displays and presentations important prospects visited, which is useful information for sales teams and follow-up marketing initiatives. Heat map data can help optimize the layout of future events, eliminating attendee confusion and ensuring visibility of important displays. And most frequented pages or content within the app help predict best next steps for engaging with your customer.
Delivering A Connected Customer Journey
An integrated, connected, streamlined customer experience that spans the full event lifecycle will not only wow attendees, it will help you improve future events:
56% of marketing directors view exhibit positioning on the floor as most important element of maximizing ROI (Certain). With heatmaps that show traffic patterns from previous events, you'll have an easier time convincing companies of the value of booth space in high-traffic areas.

70% of marketers say that amount of media exposure generated is the most common metric to judge event ROI (Marketing Profs). With a mobile event app that connects with popular social networks, and customer experience walls that encourage social collaboration and discussion, you can amplify the amount of media your event generates.

More than half of event attendees want access to event apps that provide event agendas, session descriptions, networking opportunities, venue maps, and speaker bios (Marketing Charts). An event app enables the best of both worlds in event management—it leads to exceptional customer experiences that delight attendees, and it provides detailed analytics that can be used to improve future events and drive conversions after events.
Modern consumers are driven to adopt technologies that simplify tasks and provide instant gratification—while novelty drives interest, it's the long-term benefits that win in the end. When adopting IoT for events and EBCs, consider how the technology can drive long-term benefits for both your business and your customers. Avoid adopting technologies in silos; instead, adopt technologies that will result in lasting customer relationships.