Starting in 2019, Higher Education Campuses Will Become Truly High-Tech Thanks to Smart, Connected Technologies and These Trends
Most discussions about modern venue technologies center on the corporate world. It makes sense, because many organizations are ramping up the digital element on campus, but it's also not the only place where this technology has a major impact.
Smarter, more aware technologies and mobile-friendly platforms can offer many benefits to the higher education world too. Particularly, they contribute to the digital transformation of the average university campus.
The result is a vastly improved environment for students and faculty alike that offers a truly modern experience. It's happening as we speak. Any university or higher education body that wants to remain competitive in the current landscape must begin paying attention.
"Modern jobs require a much higher degree of tech-savviness than ever before. So, building the student experience around similar tech helps future grads prepare for the world at large. @TheCXApp"
CLICK TO TWEET
Here are some of the more common tech trends that are currently shaping the higher education world:
1. Mobile Apps
It's no secret that younger generations — including Millennials and Gen Z — value mobile technology and experiences. Much of their lifestyles have been rooted in tech and mobile worlds. So much, in fact, that today's college students are often referred to as "digital natives" and sometimes described as "leading digital lives". 95 percent of Gen Z own a smartphone, while 25 percent had a phone before the age of 10.
These groups already use apps for everything from social media and shopping to studying. Mobile has become a huge part of their lives, and higher education institutions have taken notice.
Many universities now employ mobile apps as a means to connect with both prospective students and to keep enrolled students engaged. At one time this may have been optional, but that's no longer the case. Students now expect this kind of experience, and institutions have no choice if they want to remain competitive.
2. Smart Classrooms
The average classroom has evolved thanks to technology, much like we've seen in the modern home. Voice assistants aid instructors with lessons and tasks, smart controllers automate lighting, temperature, and other environmental factors, while smart whiteboards allow for new types of presentations. In some classrooms, students can even tap into a mobile system to receive information and collaborate.
These technologies aren't a pipe dream; many of them are in active development or are already available to teachers and professors across the nation.
Then there's asset tracking, a unique system that allows faculty and administrators to monitor where equipment is, how it's being used and what's missing. In this way, incoming data helps to inform the future setup of a classroom or learning environment.
While this type of technology is exciting, it's about more than the "cool factor"; the goal is building real engagement with students. Not only are students able to participate and respond in new ways, the courses themselves are more effective, allowing them to retain more information.
3. Live Maps and Location-Aware Features
The typical campus is big, and universities are no exception. Live mapping provides both indoor and outdoor maps, helping to alleviate confusion via turn-by-turn directions and real-time updates. These systems also serve as a reference for newly enrolled students, or even prospects paying a visit to the campus.
This kind of service is made possible by Bluetooth beacons, an industry estimated to be worth $40 billion. Android devices pull more than 40 billion queries for beacon-related content from Google Services each year. The newly upgraded campus is going to contribute to those stats considerably.
Robust live mapping services reduce the time it takes students to find their classes and move about the venue. It also streamlines scheduling and location planning to create smoother operations for faculty, as well.
Another aspect sees everyone on campus — from students to faculty and visiting prospects to parents — receiving personalized messages that are relevant to their current location. For instance, while passing by a cafeteria, that day's menu would show up in mobile notifications.
4. Integrated Safety and Security Systems
Safety on a college campus is a top concern, especially given the open nature of universities, where almost anyone can gain access. Among 4-year academic institutions with 2,500 students enrolled or more, a whopping 75 percent employ armed officers. That's a 10 percent increase in armed security over just the last decade.
New, comprehensive security systems are often integrated into mobile apps. Security personnel can better monitor what's happening, in real-time, and both identify and react to potential threats much sooner.
These systems use Bluetooth beacons and other location-aware features to monitor traffic, ingress and egress flows and keep tabs on all activity. In addition to communicating potential threats to security staff and law enforcement, the information can also be passed to everyone onsite, triggering alarms and guiding users to safety.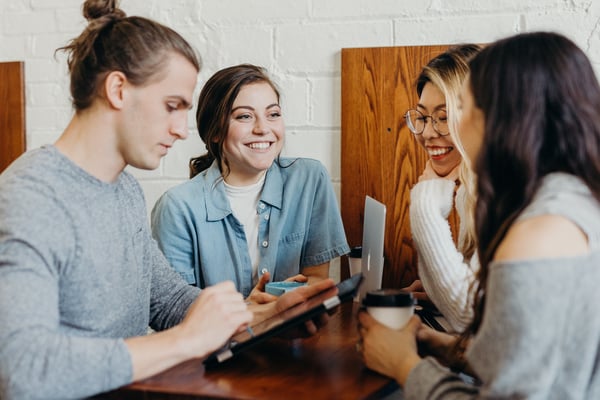 5. Autonomous Machines
Whether we're talking about digital signage or self-serve kiosks, autonomous machines are becoming more widespread. These types of devices can make a college campus more modern and efficient, as well as cut down on costs.
Digital signage can be especially useful in communicating relevant, up-to-date messages that can be changed at a moment's notice. The guidance counselor's office, for instance, could display wait times. Labs and additional facilities could display information about open or reserved spaces. The possibilities are endless.
In a recent survey, 71 percent of respondents said they feel advertising on digital billboards is more effective and stands out more than online ads. Another 46 percent said billboard ads are even more prominent than TV ads. That gives some perspective on just how effective digital signage can be, even more so on a campus where the budding minds are incredibly pliable.
6. Community Hubs
A "community hub" is a digital space that incorporates various social and collaboration features to better connect a community. The hub may also provide news and media updates related to the community and various events.
Many brands foster online communities as part of their digital initiatives and it's common for users to forge deep connections around niche interests. The online community market as a whole is projected to surpass $1 billion in value, and will only continue growing over time.
College students are likely to have already encountered this type of digital space, and for universities, it makes sense to mirror the real-life college "community" online. In many ways, Facebook was an early example of this before it was opened up to everyone. During the early days of the network, only college students were able to register for the platform. Most social discussions and shares revolved around course-related activities like homework assignments and testing schedules.
7. Experiential Events
The average university is home to many events: conferences, athletic and academic competitions, job fairs, etc. By augmenting the real-life event experience with a digital component — via live social streams, eContent, surveys and polls — engagement can reach a whole new level.
Some events may even leverage wearable tech in order to create interactive games that are both digital and realistic. Imagine an educational variant of Pokemon Go that involves course-related topics and activities. Students can use their wearables to participate, passing various location points, interacting via polls, content delivery and more.
These types of "immersive" or "experiential" events are already popular in the enterprise and entertainment spaces, and they'll be standard for every college campus as well. 77 percent of marketers already use experiential marketing as a vital part of their brand's advertising strategies.
Event technology has also been shown to increase attendance by as much as 20 percent while increasing productivity by 27 percent and decreasing costs by 20 to 30 percent.
8. The Student Experience
After graduation — and even before — students are pursuing new opportunities, but in different ways. Modern jobs require a much higher degree of tech-savviness than ever before. So, building the student experience around similar tech helps future grads prepare for the world at large.
According to Deloitte, new grads need to be familiar with certain tech trends such as IOT, machine learning, VR and more, regardless of the industry they're going into. In fact, many major enterprises are turning their headquarters into "smart campuses," meaning candidates that already know how to navigate such an environment will have an advantage.
Looking Ahead
As technology races ahead, universities are often the testing grounds for new and exciting innovations. College students make for enthusiastic early adopters that later introduce more efficient solutions into the workplace.
This overview of tech trends will help you keep up with upcoming conversations about smart campus tech as it applies to higher education as well as other industries. Of course, there's a lot more detail to be aware of. For instance, some universities will implement smart directories that allow users to search for people, places and information across all digital systems and physical spaces simultaneously. The implications will be tremendous.