The current environments we work and live in have everyone revisiting what they know about hygiene and cleanliness.
In it's Preparing for COVID-19 Guide, OSHA states: "For most employers, protecting workers will depend on emphasizing basic infection prevention measures. As appropriate, all employers should implement good hygiene and infection control practices."
The more prominent measures in the list are enhanced hand-washing protocols, at-home and minimum exposure requirements, proper tissue and trash receptacle access, clean work surfaces and environments, and routine housekeeping with increased cleaning schedules. In particular, it discusses a lot of improvements for how cleanliness is handled in the workplace beyond traditional measures.
It also reveals something relatively strange, at least compared to past work experiences. Cleanliness and wellness have just become one of the most important employee perks, extending well beyond anything else that might have taken precedence in the past.
Perks, previously seen as "cool", such as:
"Fur"ternity leave
Sabbaticals
On-site meals
Laundry service
Continued education
Gyms, classes, and group exercise
Nap time
are now being reevaluated, and giving rise to other increased attention to amenities like:
Unlimited sick time
Wellness checks
Reduced healthcare costs
Screenings
Flu shots
Digital door access
Do the fun perks matter as much, or should they take a backseat to overall wellness benefits? Or is it even considered a perk? Health, quality workplace wellness benefits and the safety of the workforce have suddenly become the most important perks of the modern workplace and will effectively never be the same.
Welcome to the New Normal
When we meet the return to work, employees are going to need environmental assurances that are embedded in the work culture. Some level of change has to happen, so that people feel safe again, not just from one another but within their workspaces as well. How can you be sure that the community coffee pot you're using is sanitary and safe?
The human connection will no doubt be the spark to the flame, especially with everyone isolated. People are going to want to interact with each other more than ever. But that doesn't mean they won't be cautious or hesitant when the world is ready to move forward again in the workplace.
The new normal will see a prioritization of health and workplace wellness initiatives beyond anything we've ever seen or experienced, at least for a majority of companies.
>> Here's How We're Enabling A Safer, Contactless Return To Work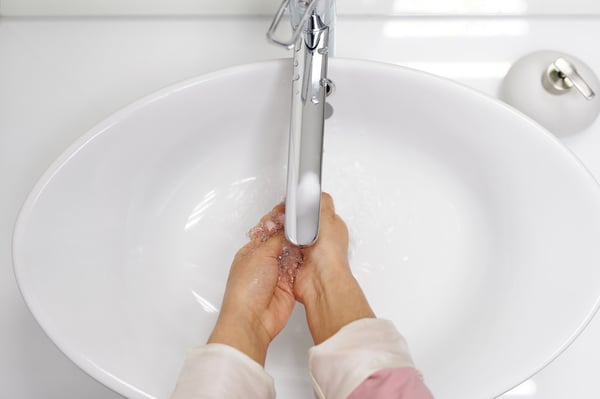 The Rising Tide In Workplace Experience
From a corporate and employer perspective, the rising tide will see two new sectors bubble to the surface: cleanliness and wellness. Before anyone returns to work and learns to trust their employers again, these sectors need to be adequately addressed regarding reentry into the workplace.
Cleanliness: To improve the overall sanitation and conditions within a workplace, various protocols will need to be put in place, not just for the workers but for everyone on-site. Janitorial tasks will need to be carried out more often than usual. Additional hand washing and sanitizer stations will need to be installed. Technologies will need to be implemented that promote touchless or contactless interactions. Minimizing human-to-human contact and allowing for cleaner experiences will be the main focus.
Wellness: Changes to both mental and physical illness policies will be necessary, especially those that protect employees in the event they fall ill. Healthier environments must be created, including increased space between workstations. Similar programs will be necessary to promote and establish general well-being across the organization.
What Does This Mean for the Future of the Workplace?
While most of the aforementioned changes are evident in some capacity already, the real question is what it means for the future of the workplace? What are some ways organizations should deal with new demands?
Here are a few companies making bold statements and actions to create a safer workplace and incorporate technology in the effort.
From > Virgin Pulse
Help your employees fight viruses by encouraging healthy behaviors that support strong immune systems. Some examples include promoting good health and hygiene habits such as frequent and correct hand washing, wiping down surfaces in shared spaces and disinfecting commonly touched objects like mobile phones, computer mice and laptops.
From > Robin @ Work
Whenever possible, rely on touchless amenities or those that reduce direct interactions. Some excellent examples are double-swinging automatic doors, motion sensor lights, and other hands-free technologies that reduce germs in high-traffic areas.
From > Gensler Research and Insight
Gensler is installing state-of-the-art air purification and sanitation systems throughout several workspaces including its D.C., New York, and Los Angeles offices. The system displays real-time air quality readouts on digital screens to keep employees informed. It will also act as a continuous disinfectant, improving air quality by reducing airborne and surface contaminants like viruses, bacteria, germs, VOCs, smoke, and other allergens.
From > AllWork
Companies should be reminding staff, visitors and customers to wash hands regularly. Taking action means more than placing a few static signs on-site. There should also be loudspeaker announcements, online notifications and mobile alerts, posters and other signage throughout the property.
From > Everfi Insights
Open communication should be encouraged in every workplace from here on out, allowing employees to voice concerns they have about their well-being and that of colleagues, customers and even communities. Identify leaders who can answer questions about the organization's policies, and better serve individual employee circumstances.
Encourage all workers to contact the Employee Assistance Program for additional support, at any time, with no repercussions. Taking that a step further, anyone should be able to voice their concerns and those communications should hold value, no matter how inconsequential they may seem.
We're building a contactless experience for the future of work!
Health and Wellness Are Now Priority One
Undoubtedly, companies want to invest in cleaner environments and experiences, if only as a means to attract top talent and create a safe workspace. Employees and customers alike already demand it, and for good reason. It's been a long time coming, but we're hoping for an accelerated policy adoption.
Get in touch to learn about our advancements in the space from a holistic, connected campus experience perspective.