What happens when you go from being 100% in-person for work, events and meetings to being 100% virtual? The 'experience' factor goes away (or at least struggles to stay afloat).
One of the most powerful things in customer experience, up until recently, was face to face interactions. Being live, being present and meeting with customers at your venue where you can showcase your technology was a no brainer.
The customer journey was logical. The format was defined. Processes were becoming automated. The only thing left was continual refinement and up-leveling.
The past year has forced us to re-think customer engagement and get back to basics in regards to communications.
Virtual conferencing technology aided many early on, but merely served as a means to an end.
The buck stopped at the end of the virtual meeting. Experiences cannot survive in a virtual meeting alone. Where we're seeing major headway in the CX space is with virtual briefing tools and the consistent engagement opportunities they provide to enterprises still selling in a virtual world. The goal with these platforms it to create a branded environment where customers can engage and play before, during, and after the meeting.
Embracing The Future of CX
But once you have a dedicated engagement strategy and/or platform, how do you get everyone on the same page. Well, we have to look to the past - to be able to plan for the future.
The virtual world of customer experience has endured many pitfalls and missteps in the past several months, creating silos, distancing teams, and leaving people confused - resulting in a lack luster customer experience model.
Here are the top customer experience challenges of 2020 and how you can address them: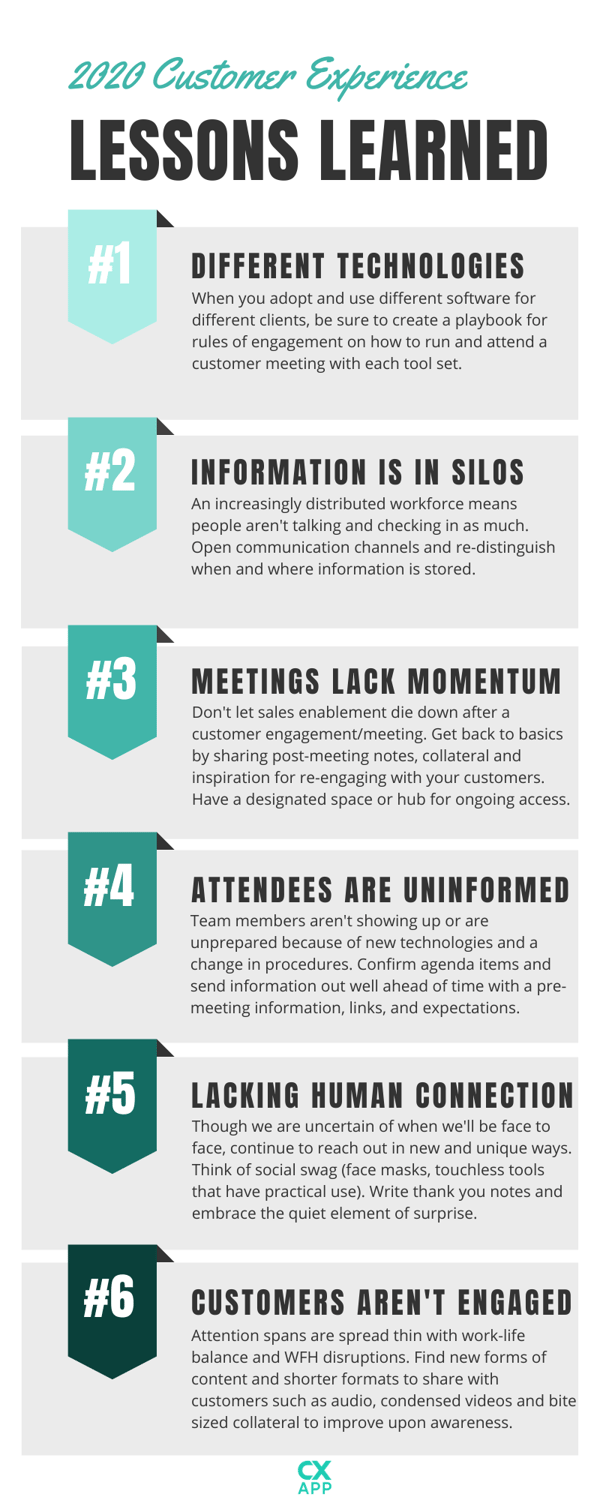 More Lessons From Briefing Professionals and Customer Experience Practitioners
>> Lessons Learned: Planning for Virtual and Hybrid Briefing Programs
>> Takeaways for Virtual Briefing Programs for the Remainder of 2020