AUTO PUBLISH
BUILD EXCITEMENT IN A NEW WAY
The auto-publish feature allows Executive Briefing Programs to predetermine a standardized, global time prior to a briefing, when all meeting details are automatically pushed to the app and live for the customer.
NOTES
The

ideal timeframe is 5 - 7 days prior

to the briefing, giving customers a up to a full week to download the app, run through logistics, and even take pre-briefing surveys.
Getting customers, stakeholders, partners into the app prior to the meeting

increases engagement and adoption

numbers.
This provides a standardized expectation not only for your customers, but also for internal program managers to consistently be using the app to

manage the briefings on a regulated cadence

.
Override and/or early publish capabilities - outside of the automated timing - are still capable via manual publishing within the CMS.
RELATED CONTENT
---
SMS INVITES
ON-BOARD CUSTOMERS IN A SNAP
With SMS invites, you can quickly send a text message directly to your customer's cell phone with app information and a direct click-through to your EBC app.
NOTES
This is a new, innovative way to

send mobile app invitations

, especially for customers who have very full inboxes.
Typically we see

higher app usage

with 100% accuracy when invites are sent to customers providing an extra touchpoint to your regular pre-briefing email instructions.
An additional touchpoint is the CXApp

registration kiosk

(on tablet), that customers can fill out on their own, while onsite, to have the SMS invite sent to their mobile phone if they still do not have the app installed upon arrival.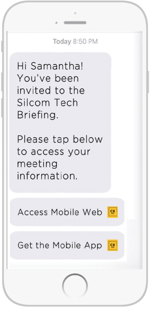 RELATED CONTENT
---
MOBILE WEB
PROVIDE OMNI-CHANNEL TOUCHPOINTS
In addition to the mobile app experience, users can also access your briefing details and logistics via a mobile web browser. Users who access meeting information through his channel receive the same level of information as app users, but have a less personalized/contextual experience.


NOTES
This is a great option for customers who are reluctant to download an app or for programs/customers in industries with stricter download protocols (such as government and defense).

Accessing briefing details via mobile still provides an on-the-go experience and is a good on-boarding technique to provide a first-touch to transition to mobile app engagement. [Note: a mobile web experience is less personalized than mobile app, where the app is contextually smart on a per user basis]
RELATED CONTENT
Want more? SIGN UP HERE to get release notes delivered straight to your inbox each quarter.
**For more information, please contact Darby Mason-Werner.