These Are The Top Event Planning Technologies And Solutions That Will Play A Significant Role In The Event Industry Throughout 2019
2019 has arrived and you have to look ahead and decide which strategies to pursue.
As each year brings new technological developments, it can be difficult for event managers to decide what's really necessary for meeting customer expectations. How do you sort through all the options? That's why we curated a list of must-have event tech categories, complete with examples of suppliers.
"'Mobile-first' is a mindset. The idea is to be as user-friendly as possible, meeting your customers on their preferred channel. @TheCXApp"
CLICK TO TWEET
Must-Have Event Tech for 2019
Here are some of the most promising technology categories:
Registration
Registration technology helps streamline the entire check-in process during an event or conference, cutting down on unnecessary steps. Attendees can check-in remotely via mobile, check attendance times and schedules, and even gain access to hotel rooms in select venues.
Digital Signage and Social Media Walls
Digital signage and interactive kiosks are conventional signage with a twist that bring the event experience into the modern age. Content can be projected and displayed on a variety of surfaces for increased engagement and brand awareness.
Social media walls, for example, are dedicated to offering real-time feedback and communications as tied to a particular topic, trending tag, or event. Events that prominently feature social media walls tend to produce more engagement and encourage user-generated content.
Location Services
Location services is infiltrating several industries in a good way! The power of maps outdoors has broken the barriers and gone inside. Location service and indoor mapping technology brings events to life by not only showing attendees where they are, but also helping them navigate unfamiliar territory and get to where they want to be.
Additionally, while near a beacon, users can receive valuable, geographically contextual content such as ads, promotions, access to unique experiences and more. Location services provide a way for event planners to create more personalized and interactive experiences, even if they're servicing thousands of guests at a time.
Smart Badges and RFID
"Smart cards" and the resulting reader technologies use mobile NFC so users can be given instant access to a location based on different clearance levels.
This adds convenience to the user experience, but it also opens up new opportunities for event planners and venue owners. Subscription-based access to certain areas of a venue now makes more sense, with automatic or mobile authentication available to those who pay their dues.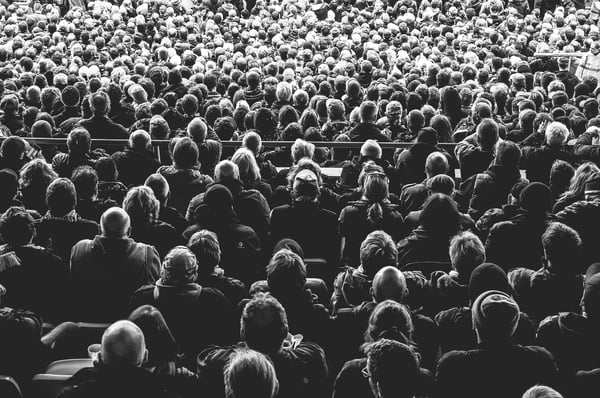 Projection Mapping
Projection mapping solutions allows both vendors and event planners alike to enhance experiences with digital projections using a variety of lighting and surface techniques. The overall sensory experience is certainly a part of the entire event attendee journey.
For instance, event planners can create a 3D interactive display right in the middle of a booth. Incorporating mobile makes the experience even better — which many projection mapping technologies offer by default.
Mobile Applications and Mobile-First
Why mobile-first? At the end of 2018, 52.2% of all global web traffic was dedicated to mobile devices. This doesn't account for mobile app usage, which is where 90% of consumers spend their time. The one constant between last year and years past is that mobile adoption and mobile internet traffic continues to rise. That is amazing considering how many people already own a smartphone; you'd think the numbers would start to plateau, yet that's not the case.
"Mobile-first" is a mindset. The idea is to be as user-friendly as possible, meeting your customers on their preferred channel.
Well-placed charging stations, for example, encourage heavier use of mobile devices in a particular venue. Attendees know that even if their battery wears down, they can plug in for a quick charge when needed.
Event planners should consider new ways in which they can incorporate mobile-friendly technologies into their venues and events. TVs that allow mobile screencasting, bandwidth and signal boosters that improve wireless performance, or even proprietary mobile devices for certain booths or sections — these are all great ideas that service the "mobile-first" mindset.