The Association of Briefing Program Managers (ABPM) held their spring conference in June - virtually - so we sat down with Darby Mason-Werner, Senior Director of Client and Partner Strategy to talk about some of the key takeaways from the event. How have briefing programs pivoted and what are best practices for continued remote customer experience strategies and goals.

What were some core themes at ABPM "Spring" Conference 2020?
VIRTUAL Yes, going virtual was pervasive. There was a poll in nearly every session such as when are you going back, and how many briefings are you currently conducting? This type of aggregate information helps us all benchmark.
CONNECTING THREAD Also, we've seen a lot of briefing teams step-up and add even more value to their companies by putting strategy and process around what a virtual customer experience can look like and tying connection points together across different remote teams. So there was a huge focus on what briefing program teams can do to up-level customer experience inside their organizations. It's a whole-hearted focus on being that consistent thread and keeping the identity of your program, even when you can't be there in person.
PROCESS AND PLANNING Another area of focus briefing professionals are taking is 'sharpening the saw'. With less travel, and potentially fewer briefings, people are allocating time to refining their programs and process that they historically don't have time to do. So, when coming back into the workplace, there can be a return to process and areas of structure that help teams really run effectively and efficiently, something we all strive for!
How are briefing program managers addressing challenges posed by remote work?
COLLABORATION TOOLS A lot of conversations were about what the move to virtual has been like and how to handle collaboration tools. Many program managers are adopting and learning new video conference technology that wasn't necessary before. And in an effort to be customer agnostic, they are open to each customer's preferred communication system, especially in the case that the customer has their own product or software.
FOOD FOR THOUGHT A few points from the Senior Executive Panel resonated very well and are good to keep front of mind;
Customers are more comfortable with virtual than we though
Lead with empathy
Meet customers where they are
Shorten briefing durations
Rally sales teams to keep going and deliver the same quality as before
And remember, everybody is in the same boat
Are any programs beginning their reentry?
Yes, no, and maybe so. Obviously we all want to know what to do and what the right path forward is. But it's different for everyone. Some will begin rolling out soon, many are still planning, and several companies are going to try out a phased approach to reentry.
One live poll delivered the following results regarding when they will be back in the office:
September - October 18%
November - December 9%
January - February 3%
Unknown 70%
DATEV re-opened their center, located in Germany, and showcased a few things that they've done to be able to reopen.
If so, are there any interesting tips or ideas that were shared?
So far, there isn't a lot of centers that ARE open physically. But a few. There were 4 sessions focusing on the reopening of centers, as well as a document shared by ABPM 'Considerations for Reopening Centers' which is alive document that will continue to be updated.
Here are a few quick center reopening tips we distilled across different categories:
Support hybrid (in-person and remote) briefings
Create an EBC team training and checklist to keep procedures consistent

Incorporate touchless interactions (technology/automation enabled)
Leverage guided tours
"Mask-up"
Reimagine the handshake and business card exchange
Create new in-center signage
Communicate in advance about on-site protocols and expectations
Many programs are also working on activating 'mobile centers' to help bring safe experiences and interactions TO their customers.
Are there any interesting experiences from the virtual conference program managers can incorporate into their virtual briefing experience?
The use of this type of virtual platform lends itself to the idea of a Virtual Briefing Center with the ability to have customers explore a branded experience with demos, tours, and content that then lead to the 'briefing experience' for the day.
Briefing programs can use this type of platform as a strategic tool to increase customer engagement given the undetermined amount of time we will be operating remotely and/or in a hybrid capacity.
With ABPM Virtual, we were able to attend sessions, get tailored content, access agenda items, have live conversations in different exhibit areas like the coffee bar, and most importantly the experience is still available, even after the live event activation. This gives attendees the opportunity to go back, revisit booths and pull down content - which really aligns with the pre, day-of, and post briefing touchpoints we all strive to achieve. We're just now doing it in a virtual space.
Also, have some fun! Incorporate yourself into the experience. Did you see Darby at our 'virtual booth'?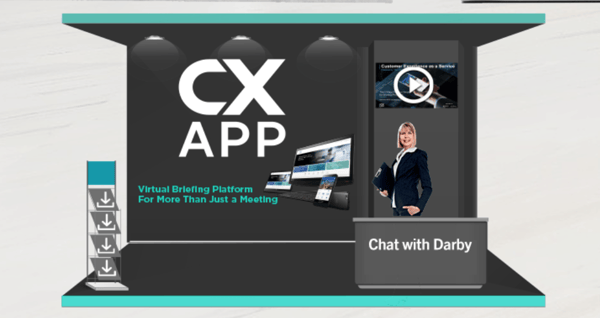 What is one (or a few) big suggestions you have for briefing program managers to stay strong during this time?
It's important to continue to stay in communication with your sales and management teams. Cross-functional alignment and consistency will keep remote processes strong.
Promote the strategic value of your program and capabilities. Use this time to reinforce the value and touchpoints fo in-person briefing programs, mirrored in digital.
Look for an implement tools that can help you maintain perpetual engagement with your customers and especially focus on the pre, day of, and post experience. We're amidst a cultural shift, and now that we know we can do this - let's keep it going!