10 Tips for Evaluating and Incorporating Event Planning Solutions
For an event marketer, nothing is more valuable than a reliable event planning tool. EBC teams have also discovered the impact of such technology, in particular how it helps build more engaging, successful live experiences.
Digitization is currently happening across all industries. Businesses are increasingly focused on customer experience as they strive to deliver more personalized channels of interactivity. In fact, 65 percent of marketers believe that investing in a proper events strategy positively impacts their company's goals.
The current trend is to augment live events with digital strategies. For example, a customer might purchase a digital ticket for an event online, then physically check in using a mobile app.
This shifts responsibility to you, the event manager, to test new platforms in search of the best tech solutions. Yet as intriguing as some of these technologies are, you must be choosy.
Here are some guidelines for evaluating and identifying the right digital tools:
"Conduct due diligence before rolling out new tech, if only to ensure it is worthy of the "smart" moniker. @TheCXApp"
CLICK TO TWEET
Is Registration and Check-in Streamlined?
Most event planning solutions offer some kind of registration or check-in feature. This can undoubtedly prove invaluable during a crowded event. But that doesn't mean this type of system is truly efficient. Are there options available for self-service? Are there location-specific features?
Pro Tip: Reduce long queues by eliminating the badge distribution process. Instead, incorporate mobile touchpoints and digital IDs into the process.
Can You Access Real-time Insights?
Over time, you'll be collecting vital data about attendee behavior. You can put this information to use for developing more effective experiences in the future. The goal is to know exactly what strategies are going to work, even before the guests arrive. Most platforms will aggregate historical information. However, it's even more powerful to have access to data as the action unfolds.
Pro Tip: The 'real-time' element is important because it allows you to take action on-the-fly, as opposed to after an event has already happened.
Are There Audience Feedback Solutions?
Whether you want to know how smoothly a meeting went, or which attractions failed to engage the audience, feedback is crucial. Consider how you will get this information before, during and after your corporate meeting or event.
Can your attendees communicate via the platform you've chosen? If the answer is yes, what kind of resources are available for managing the resulting information? The insights you garner from audience feedback must be easily shared with the rest of your team in order to incorporate them into future event campaigns.
Pro Tip: Think outside the box when trying to get attendees to participate in surveys and polls. For instance, you can use polls to steer conversations in real time by making them part of a live presentation. By being creative you can ensure more people will take time to respond.
Is Data Security Acceptable?
Highly sensitive data about attendees is collected during corporate events. Are you confident it's secure? How easily could your digital content and systems be hacked?
GDPR and other customer-oriented regulations are another concern in this regard. Are you compliant?
Pro Tip: Hire a suitable cybersecurity team for this. Don't adopt a lax approach.
Are There Tools That Foster Community?
The social tools attendees use are central to engagement. To further enhance participation, you might want to gamify event features or include a live news feed to generate buzz. Does your chosen platform allow for these kinds of additional integrations that make your event more than event? Bringing like-minded people together is a type of community - build on that.
Pro Tip: A highly engaging event will incorporate familiar tools that make the experience effortless. Leveraging tools that bring the conversation from the physical into the digital and vice versa with instant messaging or collaborative forums might be what you're looking for.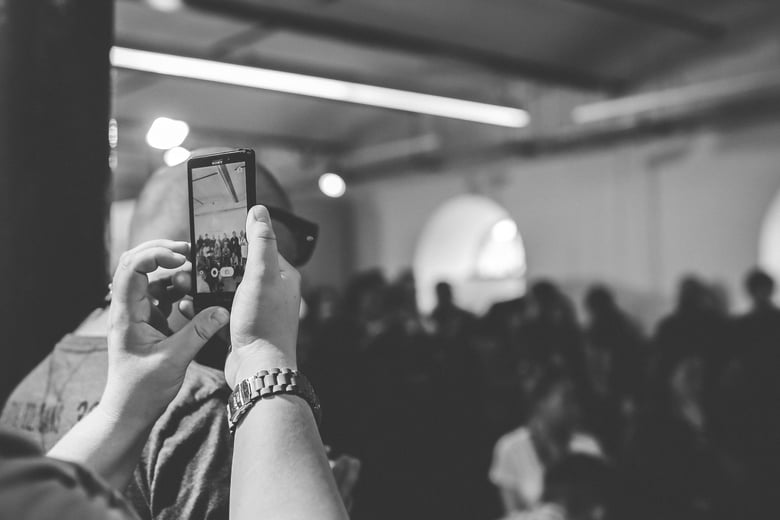 What About Omni-Device Support?
Your attendees likely use a variety of devices in addition to computers, like tablets and smartwatches. To keep up, you'll want to offer omni-device support. Is your tech available across numerous platforms?
Pro Tip: Study the behavior of your audience to understand which devices they're likely to use and when, then prepare to offer an adaptable solution.
Can You Access Traffic Management Solutions?
Wayfinding and event flow is critical to the positive experience of your attendees. If they're confused about where they should be going things aren't going to end well. You can leverage event tech to steer crowds.
By doing so, you will also gain insights for future events - what areas were heavily trafficked and what points of interest were overlooked.
Pro Tip: Analysts expect the global indoor positioning and indoor navigation market to grow to 7.8 billion by 2021. Now is the time to get onboard.
Can You Go Global?
Event fanfare will often draw international guests. Alternatively, you might even host events in foreign locations. In either scenario, you'll need to clearly communicate with your audience.
Pro Tip: Your chosen digital tool should adapt to the different requirements of a foreign location. Also, the capability to integrate text in other languages can be priceless in such a scenario.
Is There Proper Integration Synergy?
Is the event solution compatible with the other systems you employ? Can your data easily be carried back and forth? This is called integration synergy.
Pro Tip: If your tools don't allow you to merge critical data — registration, surveys, polls, social engagement — then walk away.
Is the ROI Measurable?
ROI can be a tricky data point to calculate because it's relative, based on who you're receiving buy-in from. Review your events solution using the following criteria:
Reduced costs in deployment, maintenance and operations
Scalable platform support that can be used continuously, year after year
Reduced spending on alternate platforms, without relying on separate analytics tools
Cost is an important consideration when it comes to ROI, as evidenced by the fact that 67 percent of event planners state that cost has the biggest impact on whether or not they adopt an event app. They also consider factors such as technology (60 percent) and integration with third-party tools (58 percent). Still, you should take a long-term view; don't rule out a solution with broader functionality just because it's more pricey upfront.
Pro Tip: Collect feedback from your team and employees. They can provide valuable insights about the assistance that an event solution might offer them.
One Question to Rule Them All
In the end, the most important thing to consider is whether or not the platform provides value to your attendees. Does it aid your employees, partners and stakeholders? If the answer is no, find something else.
Conduct due diligence before rolling out new tech, if only to ensure it is worthy of the "smart" moniker.