How Being a "Kind Business" Drives Customer Experience and Employee Engagement
The business landscape today — no matter the sector — is highly competitive. Any business that wants to stay afloat in the tumultuous sea of competition must stand out.
Of course, there are many ways to stand out; the first step is offering a high-quality product or service. But quality is not all that matters.
Companies must build a connection with customers to foster loyalty and ensure repeat business. This can be accomplished with a kind approach. Interactions between a business and the community — including customers, employees, and partners — must be positive and memorable. Emphasizing such interactions helps frame your reputation as friendly and human. The inherent value is proposed in such a way that communities feel more connected with your business offering.
"Modern audiences are very savvy: they can detect the insincerity behind strategies like becoming a B-corporation or donating profits, if the company in question is missing the right values and culture @TheCXApp"
CLICK TO TWEET
Rise of the Caring Enterprise
People respond to kindness, sincerity and warm interactions. Many realize the potential of a kind approach in business - this is why so many companies are founded as B-corporations, emphasizing charitable causes.
A business might partner with a nonprofit and raise money, or donate money from its profits. Often, firms will offer employees paid time off for use in volunteering and public service efforts.
These things are all great, obviously, but they're not enough on their own. Success through kindness is more about changing the perception of a business. Modern audiences are very savvy: they can detect the insincerity behind strategies like becoming a B-corporation or donating profits, if the company in question is missing the right values and culture.
Having the Right Approach for Customer Success
The answer is to adopt a customer-focused mindset. It must start with leadership and permeate the organization, down to every employee and contact. Only by valuing customer experience and satisfaction can you hope to succeed. The reward? The true "heart" of the company shines through - and when these values form the foundation of the business, it's authentic.
Great customer experience starts with strong employee engagement. Companies that truly care — and by proxy are successful — know this and pay attention to both groups.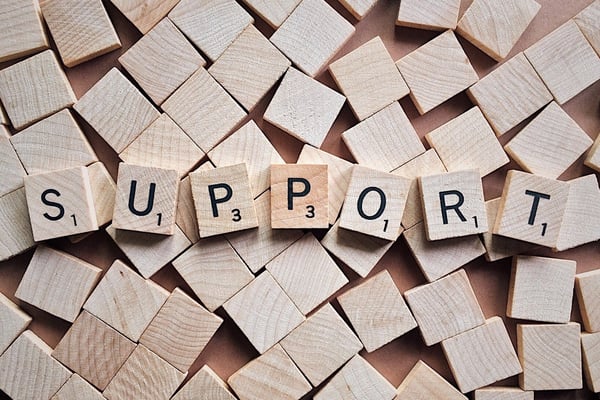 How to Engage Customers and Employees Alike
Finally, we come to the methods you can use to keep both customers and employees engaged:
Engaging Your Customers
The first step is to ensure you understand your audience. You must identify and make use of the right tools to reach your customers, as well as collect feedback and insights. Most likely, it means having a mobile presence so that you can interact with your audience on their terms - especially if you target a younger crowd or busy professionals.
Next, you need a digital online community that can harness customer relationships.
You'll find it becomes about so much more than social media marketing. Instead, the goal is to focus on listening and fostering impactful interactions with your audience. Listen to what they have to say, and respond in kind. What are they sharing with you and others in the community?
Luckily, modern technology makes it easy to establish a hub of communication. You can use the hub to provide resources and also to follow up beyond the initial interaction. After customers buy-in, you can follow up and address any problems or concerns they might have. Features such as eContent and mobile notifications provide additional excellent tools for your communications hub.
Everything from creating the online community, to opening discussions or following up with customers after major experiences works to build an active relationship.
Engaging Your Employees
Many of the same customer engagement concepts and methods can be used for your employees. For example, understanding who they are - their viewpoints and needs - should be your first priority.
Provide employees with the appropriate data and resources to achieve their goals. A digital community can prove instrumental here, helping you understand what challenges workers face. This type of communications tool encourages the exchange of best practices and innovative ideas. Invest time in listening to team members and lend credence to what it is they're sharing. If employees don't feel valued, they won't be as productive. That concept is the crux of employee engagement.
In the Harvard Business Review, Christine Porath reveals that people exposed to rudeness are three times less likely to help others, and their inclination to share drops by more than half. It can also result in the spread of poor or harmful behavior, such as insults, belittling and negative attitudes. Rudeness can come in many forms, one of which is treating employees poorly or undervaluing them.
What Is "Kind" Business to You?
Consider the businesses and employers you had interactions with over the years. What brands stand out to you most?
Chances are, the brands you remember are the ones that embody so much more than good products. What you likely remember are the personal, heartfelt experiences you had. The times when someone went beyond expectations to accommodate your needs, or responded quickly to your question in a direct and personal manner.
Therein lies the true power of "kind" companies. They have the uncanny ability to touch the hearts and minds of those they come into contact with. You can't forget them.