If there's one thing we've learned from recent events in the corporate world, it's that business leaders are out of touch with what employees want. That rule doesn't necessarily extend to every business leader and doesn't include every facet of an employee's work-life, but it's still a very impactful concept.
A catalyst for this has been the revolutionary change to the modern workplace, largely due to the pandemic. The structure of the average workplace and worker expectations have been changed forever. People have had a taste of a more balanced and fair work-life, with emphasis on family and health.
To bring employees back into the fold and encourage them to return to work, we need to reassess and realign company culture so that it supports and furthers the hybrid workplace. Employees need support whether they're working on-site, in transit, or on the edge. Smart desk booking and employee experience solutions are the chief answers to this problem.
In Microsoft's annual 2021 Work Trend Index report, the same conclusions have been made. It warns that business leaders are "out of touch with employees and need a wake-up call." High levels of overwork and exhaustion were detected among employees, but not among managers. What's more, 61% of business leaders agree they are "thriving," which is 23% points higher than those in positions with no decision-making or authority.
In addition, employees are not keen on returning to work while the pandemic is still raging, and news of the Delta variant — and its spread — is only making that sentiment worse. They don't want to return to full-time work in the office only to become exposed. Opposite this, employers are struggling to show a measure of value that encourages people to come back to work.
While work location and schedule, particularly those conducive to family life, is important for 66% of employees, only 49% of business leaders consider that information important. Business leaders are concerned with the practicality of remote work, as well. For 38% of leaders, communication and collaboration difficulties are a major concern, whereas only 24% of employees agree. Business leaders and employees are clearly at odds.
Critical Hybrid Work Elements
With varying viewpoints front and center, it makes developing a hybrid setup challenging.
In a hybrid work environment, what are the major factors that contribute to a more successful operation? Why do employees prefer remote and hybrid experiences?
Avoiding commute times means they can reclaim that time to spend on themselves, with friends or family.
Hybrid workstyles and solutions mean people come and go more effortlessly, and on their terms.
People are socially distanced and in a more natural way.
High capacity, crowded areas, and occupancy thresholds are much less concerning, especially when you can choose to stay home.
So , how do we solve for these current and emergent employee expectations? What's the best method to deliver advanced employee experience tools, in a more structured way?
Strong communication and dynamic processes should be provided from the top-down. They must prioritize value, in the form of giving back time to employees, and focus on boosting engagement simultaneously.
A Look At Desk Management In the Workplace
Desk booking applications and systems can be used as a controller to set office hours and facilitate hybrid configurations. It gives employees the flexibility to establish and work their own schedules, by determining and supporting where, how, and when they come back to the office.
That's because some of the more advanced desk and space reservation tools utilize complex logic on the backend to provide a foothold for variable requirements and criteria about the workplace. Users — whether that's an employee or a leader — can filter and sort workstation elements by location, person, work neighborhood, or even department. This allows the organization to regulate what spaces are bookable, and to supervise where workers are spending their time on-site or on campus.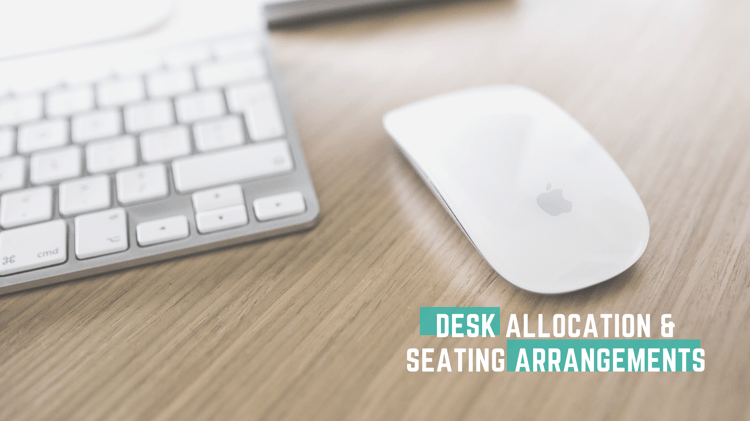 The benefit is that employees don't see the complex logic that goes into the whole equation. They only see what is, or isn't, available to them. This streamlines the experience, making it more enjoyable for employees to come and go amidst a hybrid work environment.
When employees want to book a workstation, for example, they can use filters to find the ideal room, desk, or communal space. They can search by date, time, available amenities, and even colleagues or nearby peers, which helps to further collaborative or joint projects. The same is true for conference room scheduling endeavors. Interested parties can merely reserve the space and invite fellow participants, all through a single interface and platform.
When you time bracket a workstation, you are essentially defining your in-office hours in a more flexible arrangement. This experience is a core component of the future of work.
Building An Office We All Want To Work In
Flexibility helps mitigate job burnout which reduces employee turnover. Smart desk management, for many organizations, can be a cornerstone of meeting employees at the edge of where and how they want to work by giving employees back control of their office hours.
Workers want the same opportunities they've been given for the past couple of years, and they want to take ownership of those decisions — whether or not they return to the office or work from home.
The truth is that conventional offices will not go away for a majority of organizations. How office spaces are being used is what's changing. An office is no longer an 'everyday' necessity, and a large part of that is being fueled by modern technologies too.
Other factors that are impacting successful return to work strategies are occupancy management, setting office capacities, providing safer working conditions, and creating channels for sustainable productivity.
The biggest shift will be industry-specific, and frankly, larger organizations have the resources and the technologies in place to make it all happen. Workplace culture has changed, and while it's still integral to maintaining employee productivity, a new form of it is developing — one that prioritizes remote experiences and choice.
The most important thing you can do is lead with an agile, flexible workplace policy that can pivot to meet changing cultural demands and worker sentiment.