What: When a guest uses the Envoy visitor management system integrated with The CXApp allows for more intuitive guest management through the mobile app so hosts anywhere across your venue will instantly be alerted when their visitor has arrived.
Why: Visitor management tools help keep guest management streamlined and secure, especially for large campuses. But what happens after check-in is an important step too, customer experience continues throughout the entire journey at your campus. Sending an alert to the sponsor that will be hosting the guest expedites the process for guest management and helps with familiarizing customers, vendors, and others amidst a first-time interaction.
Get more information on The CXApp integration with Envoy.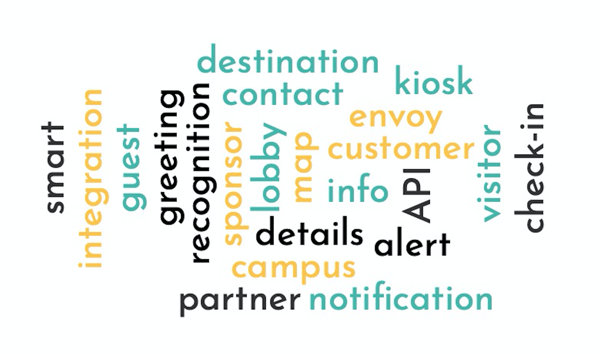 Did you know? Messages that are sent with images have a 9% higher click-through rate than those sent without images.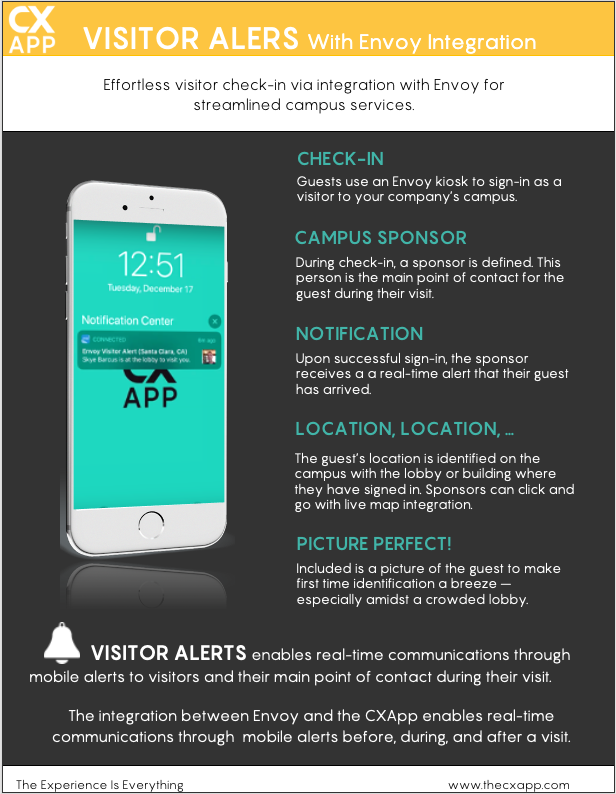 Scenario:
Izzy Scaling, Director of Operations at Rapid North is visiting SilcomTech today fo a half day meeting with the account managers and tech team working on deploying a new platform at Rapid North. Izzy uses the CXApp to review agenda, travel information, and meeting info before he leaves for the day so that he is prepped for the meeting.
As he arrives at SilcomTech, the app sends him a welcome notification to head to the main entrance of the EBC and check-in. Once inside, Izzy complete the visitor registration process using the Envoy digital kiosk, he even took a photo, and gets a confirmation that he's all set and Mary Plansit, would be down shortly to greet him.
Meanwhile, Mary Plansit, Briefing Program Manager at SilcomTech, is in the Land's End conference room finishing setting up and receives a notification from The CXApp letting her know that her guest, Izzy Scaling has arrived and is in the EBC waiting room. She glances at the notification to see Izzy's photo. All set she thought. She wraps up in the conference room and heads to the waiting room and walks right up to Izzy amongst a couple of other visitors, because she saw his photo in the app, and introduces herself. She then takes Izzy back to the Land's End conference room where Robert Leads and Alexis Lively are both waiting, ready to start the meeting.
Izzy thinks to himself, well, if all 1st time interactions were this easy...
Ready to increase visitor preparedness?
Download the Visitor Alerts Datasheet