The Major Technologies Driving Customer Experience
2018 is upon us. There's much talk about smart, intelligent, data-driven, virtual experiences. But what will drive business and customer trends in the New Year and how will these advancements in technology be incorporated into the customer experience journey?
The intelligent digital mesh that exists around us is a foundation for doing business via digital platforms, using modern technologies and ecosystems. In 2018, we will see deeper connections into the digital mesh where integrated business systems, intelligent-driven services, and connected experiences are shaping the digital transformation of customer experience.
Big data, cloud computing advanced analytics, automation, and artificial intelligence are completely reshaping the way the business world operates. This amounts to more dynamic, flexible and autonomous systems; intelligent tasks and systems performing the work that humans would normally do. Technologies are blending virtual and real worlds to create immersive, digitally enhanced environments. And the connections between these various platforms influence digital outcomes for organizations, customers, and the bottom line.
What's Driving CX? Five Major Technologies
Of particular importance currently, are customer experiences, personalized touchpoints, mobile-first programs, and of course bridging or creating a "mesh" of all the various solutions.
1. AI
AI or artificial intelligence is about smarter and more efficient automation. Automation and AI tools will work alongside your employees. It's about smarter experiences and on-site and in-venue improvements so that customers always feel as if they're getting bleeding edge, white-glove services.
For those wary to adopt such technologies, you should note that they're already sweeping across many industries including yours. By the end of 2018, Gartner says that "customer digital assistants" will be able to recognize customers by face and voice across channels, platforms, and partners. That's huge, and it shows how the evolution of modern technologies will change the state of our market.
2. Intelligent Apps and Analytics
Native app experiences are crucial. For every eight minutes a user spends on their smartphone, seven of them are invested in a mobile app.
Smarter, more connected apps and services are the driving points behind analytics and intelligence technologies. More importantly, they allow brands to provide personalized and tailored experiences to their customers and audiences.
These apps and tools will eventually know your users better than you - or anyone else for that matter - ever could. This provides an endless stream of opportunities in regards to engagement, predictions, and support.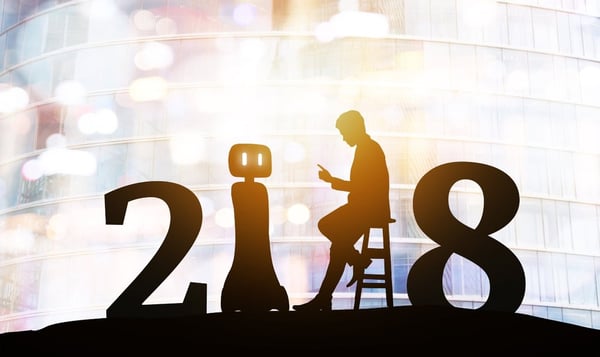 3. Conversational Platforms
Natural communication is becoming possible more and more every day, thanks to AI and data-driven technologies, but customers are also growing more reliant on them as this happens. They are creating an open space for communications and connections with people, places, things, and - above all - data.
Brands can reach their audiences in unprecedented ways, such as through a voice-enabled platform like Amazon Echo, or Google Home. This includes support apps run by chatbots and automated systems, as they provide always-on customer support at the drop of a hat.
60% of consumers aged 25 to 34 say it's easier to chat with brands through messenger apps, while a sizable 27% have used chatbots to talk to a company before.
4. Immersive Experiences
Augmented and virtual reality platforms are becoming a part of the current world, and it makes perfect sense. Through such technologies, we can experience amazing and wondrous things that would never be possible otherwise. This has naturally led to a surge of VR and AR devices that are part of the smart and IoT world - think eyeglasses with AR displays or vehicles with unique AR heads-up-displays.
Both of these mediums have the potential to drive more sensory experiences for all, whether in-person or remote. They can be used to test products, create and design them, build experiences, and even reach out to real or digital customers. There's no other platform that is as potentially lucrative currently as AR and VR.
You can completely change the look and feel of an entire venue, with a minimal cost, simply by leveraging a digital or virtual reality experience.
5. Event-Driven Moments
This technology is more expansive and relates to exploiting digital business moments or events through the use of apps, tools, platforms, and various channels. According to Mark O'Neill and Paolo Malinverno of Gartner, 50% of managed APIs will support event-driven IT by 2020.
It's the business iteration of kairos - the right, critical, or opportune moment. Being able to trigger specific events from a customer perspective makes the buyer's journey more perpetual. Leveraging past behaviors to facilitate an opportunistic moment is the future of business.
As smarter technologies and modern connected experiences become the focus over the coming year, the trends discussed here will become necessary. CMOs simply cannot afford to ignore them if they hope to develop an effective customer journey.
You should look at them, not as an obstacle, but tools that can be added to your routine to build greater connections, data-driven experiences, and more impactful campaigns.