CX, EX and Business Strategy
Digital Transformation (DX) is the focus of many a business these days, just as it should be. Conceptually, it's meant to "reshape an organization or company's culture" where appropriate, in order to "leverage existing processes, systems, and assets."
Drivers of DX for businesses across different industries can be: changing customer needs, the speed of delivery, more customer insights, advanced communication interfaces, converging data streams, cloud dominance etc.
Why are businesses so focused on undergoing a DX? Sure, we know they're doing it to improve their teams, operations and offer their organizational conveniences, but what about the customer? What does a digital transformation offer your customer base?
Surprise, DX Has Always Been About the Customer!
Believe it or not, DX has always been about meeting the needs of the mobile or digital consumer. In fact, CX is such an important component that Forrester predicts in 2018, two-thirds of business firms will focus on developing customer insight centers of excellence.
Think about it like this. Today's average consumer is armed with a variety of digital devices, accounts, and platforms all of which generate data, allow access to massive troves of information, and offer instant, always-on connections. At any given time, they have all the tools and ammunition they could ever need at their fingertips, meaning they have a majority of the power.
You can benefit from this, as many have been doing for years, but to do so your customers must be equipped with your business' relevance. They must understand who you are, what you have to offer them, and what it all stands for. More importantly, you must be able to deliver a modern customer experience journey that ultimately works in everyone's favor, including theirs.
It's a bold statement, but we believe this is just one of the many ways in which DX plays an important role in customer experience. Not to mention, Forrester is calling for a more bold shift, no doubt in favor of the average customer.
Of course, there are more reasons why DX plays a significant role in customer experience.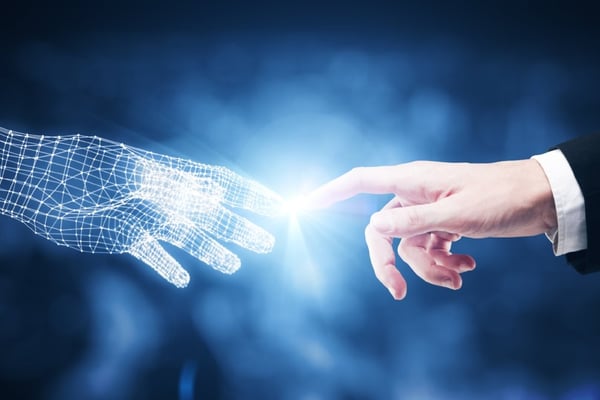 The Many Ways DX Plays a Role In CX
For years, the focus has been on engaging and captivating audiences and various customer groups. To achieve this, you need to make sure you are aligned with their needs, but also that you're positioned where they are.
You need to be reaching out to them via social networks and other channels. You need to deliver the kind of 'on-the-go' experience that mobile apps and ecosystems offer. You also want to engage with them on the platforms of their choosing, namely mobile.
These initiatives call for a modern digital transformation to make them happen, but they still rely heavily on a streamlined customer experience as well. When we think about the customer, we automatically filter through a set of 'conveniences' and 'efficiencies' that DX can offer.
Omni-Channel Experiences: Omni-channel and omni-device initiatives allow business' to keep their audiences engaged across all networks or platforms. In addition, this affords customers a seamless experience from channel to channel, device to device. For example, consider the option for customers to begin browsing on mobile, add items to cart, and then check out fully on a desktop PC, swapping between all platforms seamlessly with no interruptions. Now, imagine that from a B2B approach and how you'll have constant contact with your customer at all times.

Instantaneous Value: By leveraging all technologies available, business' can deliver instant and immediate access to information and experiences to satisfy customer needs for information on-the-go. This enables the deployment of an always-on and uber-connected environment, including customers, colleagues, team members, devices, and activations at all points of the journey.

Coordinated Ecosystems: In the modern landscape, collaboration is a currency and so are integrated seamless experiences. Coordinated or integrated systems—mostly thanks to APIs—allow for a concerted approach to operations, so customers receive more holistic experiences as a result. In the end, digitization will be creating effortless collaboration which leads to higher engagement and satisfaction levels.
Start Your Digital Transformation—or Hone It—Today!
Digital Transformation is a tremendous undertaking for any business—big or small. It's even more time consuming for large, well-established companies that have to convert existing operations. But it's worth the investment.
When done right it can help to generate a more holistic experience. You see, meeting the demands of your customers and remaining innovative in today's fast-paced, digital landscape is necessary.
As you begin to form your own DX strategy or come up with an initial plan, there is much to be learned especially from those engrained in the digital and mobile industries. But more importantly, it's about how these DX initiatives will shape the customer experience from the inside out. What processes can be simplified? How can you break down silos? How can you make the customer more of the experience? What opportunities are there for perpetual engagement? How can you get from DX to CX in 0 - 60?