Get All the Information on In-App Profiles!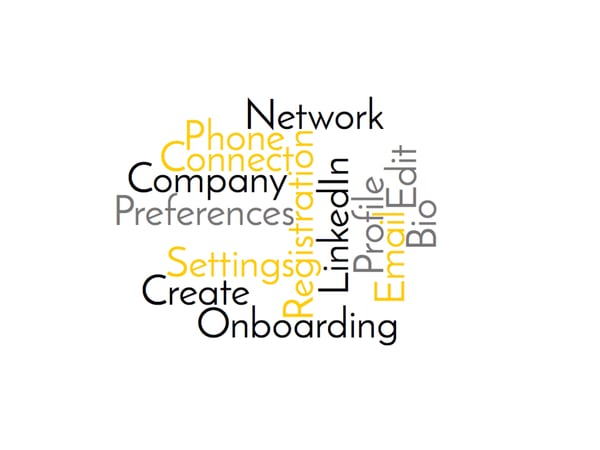 What: Each customer invited to your EBC or event will receive credentials to log into their specific meeting. The on-boarding process is your chance to make a good first impression with a good user flow detailing users how to register and create a profile so that they can have a more interactive and personalized customer experience when it comes to your mobile app program.
Why: The goal of on-boarding is to have users quickly provide personal information to register to help increase user retention and app stickiness. This ensures that they become a fully immersed member in the community and can connect and collaborate easily with your company's information, content, integrated technologies, and when applicable, other members.
On-boarding is your opportunity to show users the value and benefit of the app, ask them for specific information, and guide them through the profile setup flow so that they can get the most out of the app and you can ensure you've got everything you need to make them come back for more.
A solid on-boarding experience can increase retention rates by up to 50%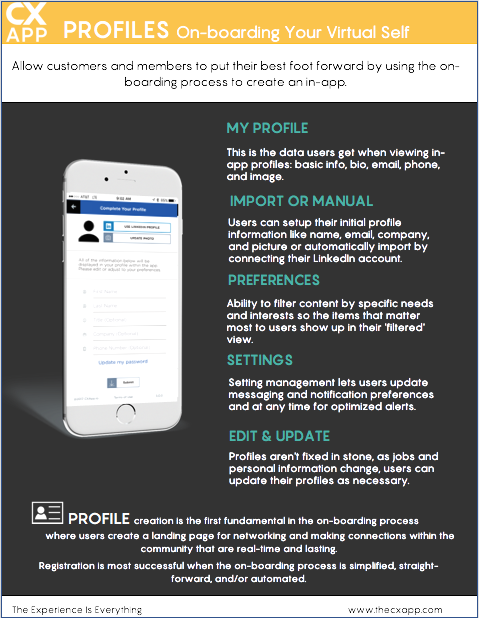 Scenario
David Visitus, Director of IT for 'FlexOps' received an invitation to download the Silcom Tech CXApp in preparation for the scheduled executive briefing he is attending at their offices in two weeks. The invitation highlighted the benefits of the app and clearly outlined specific touchpoints that would enhance David's on-site experience. Mary Plansit, Briefing Program Manager at Silcom Tech, also included a few helpful hints on where to find the app, what to do after downloading it, and easy instructions for setting up a profile in the app itself.
When David opens the mobile app and begins to register and login, he is guided through two options that he can choose from to create his profile: syncing with LinkedIn and filling out the forms. In the interest of time, David opts to connect his account where instantly all of his LinkedIn profile information including his headshot show up in the CXApp. It took him less than 3 seconds to get squared away!
Also as part of the on-boarding process, David opts to receive notifications from the CXApp as Mary had indicated that there would important messages sent through the application on the day of that would help David better navigate his day.
As the final step during registration, David sets up his notification preferences and configures what methods and timings would be the most important for him to receive updates from the app. Mary also noted that as part of the customer community, there would be a constant stream of news, blogs, and events that David would have exclusive access to. So, while configuring his settings, David is also able to quickly choose which topics, solutions, and industries he values most so he has a personalized stream of content that closely matches his interests.
Ready to leverage profiles as part of your digital transformation strategy?