Learn About the Power of Mobile Surveys!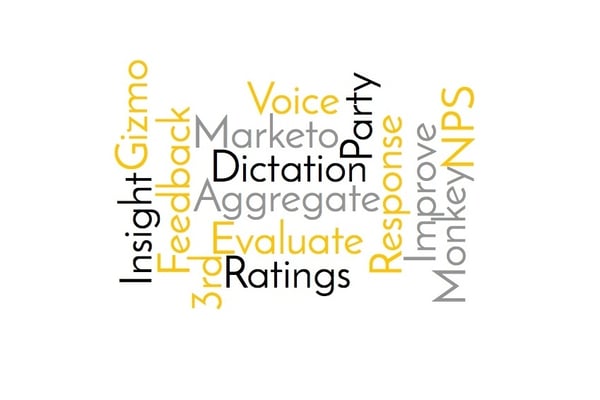 What: In-app surveys help you take the pulse of the audience for real-time responses from event and meeting attendees that provide you with contextual and candid feedback that can help shape your ongoing customer experience efforts.
Why: Surveys are a means of getting the most unbiased, valuable feedback possible from customers. Because they can be anonymous, event and briefing participants can provide honest reflections of their experiences.
When paired with a mobile app program, your surveying strategy becomes an 'in the moment' facilitator.
Surveys can then be administered before, during, and after events/meetings in order to collect feedback that can be used to shape current and future events to deliver exactly what attendees need.
Companies that pay attention to user analytics and feedback programs experience greater user engagement, with a 45% increase in response-rates.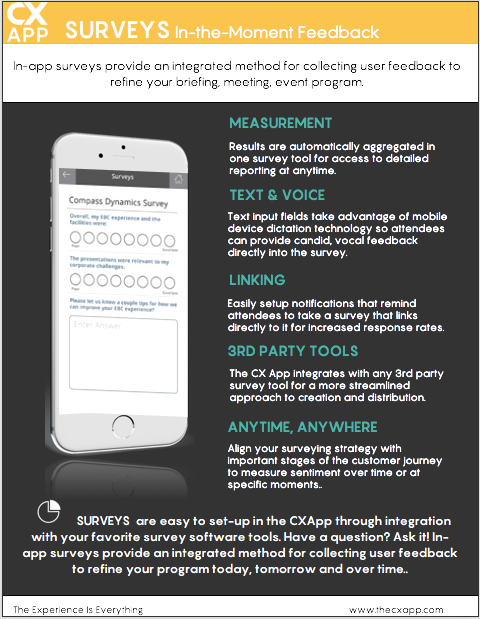 Scenario
David Visitus, Director of IT for 'FlexOps' just finished an all day meeting at 'SilcomTech'. Throughout the day, David participated in 3 sessions:
9:00am Reception: Welcome and EBC
9:30am Briefing Team: Tour and Innovation Showcase
10am w/ Robert Leads (VP of Technology & Solutions): Global Digitization Trends and Vertical Impact
12noon w/ Robert Leads and Mary Plansit: Lunch @ Stix (fusion restaurant)
2:00pm w/ Ark Itect (Systems Integrator): Integration Program Overview
3:30pm w/ (Technical Network Engineer): Security and Programmability
4:30pm Briefing Team: Wrap Up and Next Steps
After the briefing, David heads to the airport to catch his flight and receives a gentle nudge from the briefing team via a notification in the CXApp to take the SilcomTech EBC Experience survey. David clicks on the link and is guided through a 10-question survey right in the app with questions like:
With most of these questions, David was able to easily select his rating, score or sentiment from a list, but for more detailed answers that required actual feedback, David was easily able to provide voice dictation straight into the survey field for very honest feedback such as:
"That was a great meeting, the food was phenomenal, I especially liked the coffee bar. It was a nice pick me up to keep me focused and collaborative throughout the day. "
David was able to quickly finish the survey while waiting for his plane to board which he thought was a great way to get his attention and give his feedback of the overall experience.
How would you rate Robert Leads presentation?

What was your first impression of the EBC?

How would you rate the overall experience?

What did you think of the food?
Ready to leverage surveys as part of your digital transformation strategy?