Meeting Agendas as Smart as Your Executive Briefing Center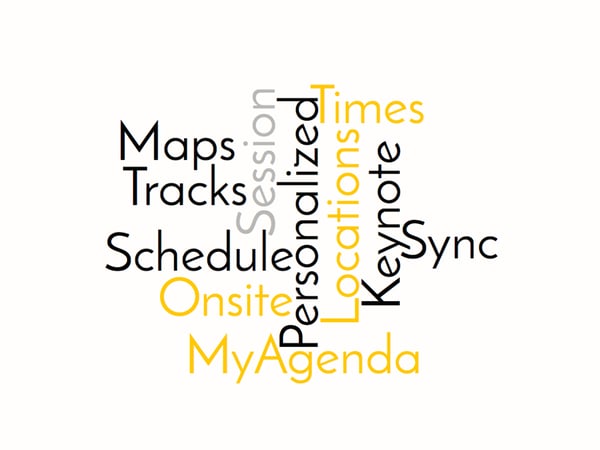 What: Agendas are a clickable, scrollable, searchable hub for important session details that help manage attendee expectations leading up to and most importantly during your event or meeting.
Why: The key to successful meetings and events is a solid agenda. Agendas ensure that sessions stay on track and that schedules proceed as intended which ultimately increases operational efficiencies. A great deal of time and effort go into executive effective meetings, so with a tight agendas that surface the right type and right amount of information ensures all attendees are prepared, informed, and in-the-moment.
More enhanced agenda building features allow for privatized and personalized events that are a key component to creating a mobile user journey that is custom-tailored to each user.
88% of event professionals report that a mobile event app had a positive impact on overall attendee satisfaction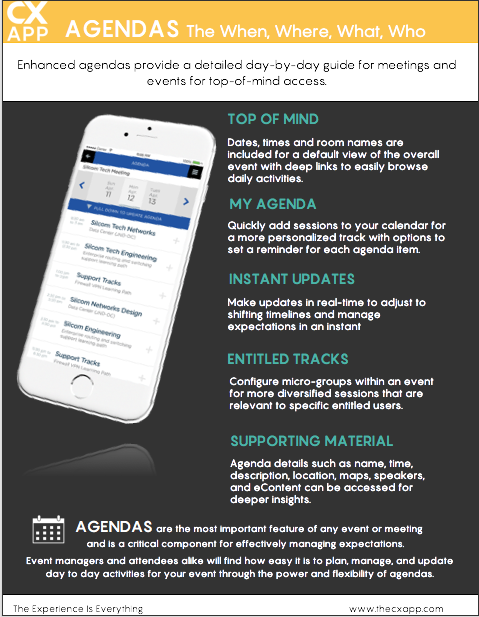 Scenario
Sandra Partaker, Senior Account Manager at Rapid North, is attending the Silcom Tech Users Group (STUG) convention in San Francisco. It is a week before the event so she opens her CXApp to review the overall event schedule that spans 3 days of panels, sessions, offsite tours, and networking events. She first reviews the opening session and clicks through to read a bio on the keynote speaker. Then Sandra scrolls through the rest of the first days agenda taking note of the planned discussions and events.
Sandra builds out her personal agenda by clicking on each of the session tracks she is most interested in adds them to her 'My Agenda' section. Across the 3 day event, Sandra custom-tailors her journey by creating a mixture of panels, presentations, and collaborations for each day.
She is most excited about a panel being hosted by Robert Leads, VP of Technology, where he will be talking with 3 guests from hospitality, healthcare, and education about their own integration stories that made them so successful. She is hoping to get a wider view of opportunities she may not have thought of for Rapid North. Knowing that she will be in a collaboration session just before the panel, Sandra sets a reminder in the app, so that she is sure to get a notification before the panel begins.
Looking further at the agenda, Sandra notes that David Visitus, Director of IT for FlexOps, will be on a guest speaker at Robert's panel, so she sends him a quick note that she is looking forward to the conversation. David and Sandra have met previously and have an ongoing conversation about integration opportunities.
Time flies, and a week later, it's the first day of STUG and with the CXApp in her pocket, Sandra is confident that she will get the most out of this year's convention as she has a jam-packed personal agenda, as well as other opportunities in the full agenda to observe, connect, and learn.
Ready to leverage enhanced agendas as part of your digital transformation strategy?