Find Out How This Feature Enhances the Social Aspect of Any Event or Meeting!
What: The activity stream is a real-time aggregation of user engagement across targeted social media streams, managed content, and posts from the in-app community.
Why: Activity streams reflect social activity across your user group and colors your meeting, event, or community with live engagement. Real-time social integrations bring the power for what's fun, trending, and happening from different platforms and/or a specific hashtag to all users across your app.
96% of companies see the value that customer collaboration presents for the marketing department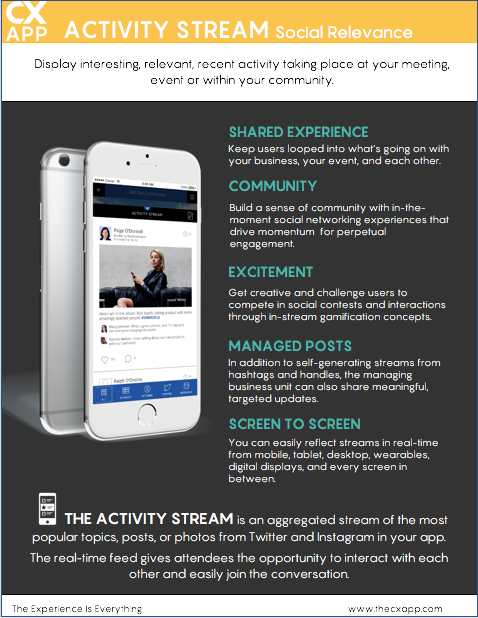 Scenario
Sandra Partaker, Senior Account Manager at Rapid North, is attending the Silcom Tech Users Group (STUG) convention in San Francisco. The annual event begins tomorrow and spans across 3 days of panels, sessions, offsite tours, and networking events that tap into modern communication and networking technologies for advanced business operations.
Preparing for the convention, Sandra opens her Silcom Tech app and clicks on the STUG event to begin scanning the activity stream. The feed is pulling in multiple streams from Twitter and Instagram with #STUG2017, @SilcomTech, and #SilcomTechSTUG.
She sees posts from other STUG attendees as well as a note from Robert Leads, VP Technology and Solutions at Silcom Tech, that he is looking forward to the event and meeting everyone in San Francisco, along with a beautiful picture of the registration lobby where the convention is taking place.
Sandra is eager for the event to begin so she can reconnect with people she met last year as well as make new connections. In an effort to spark some creativity amongst other attendees, Sandra shares her own post in the activity stream : From Atlanta to SF, I traveled 2,473 miles to get in on the action at #STUG2017! Within seconds, Sandra's post is live and is gaining traction with 21 likes and even a few other attendees sharing in with their travel miles to see whose come the farthest!
Ready to leverage the activity stream as part of your digital transformation strategy?