The New CX Trend
Voice assistant devices like Amazon Echo (Alexa), Siri, Google Assistant (Google Home), and Microsoft's Cortana are revolutionizing both customer engagements and product interactions. They are all the rage right now and for good reason. They essentially allow you to interface with modern devices, including smart TVs, smart home tech, mobile gadgets, and more, simply through voice commands.
"Alexa, please turn on my lights and play some jazz."
"Okay Google, will I need an umbrella today?"
Notice how both scenarios use more natural, human-sounding speech?
Smart reply technology and voice-activated assistants, like the ones mentioned above, are emerging technologies that are picking up steam, rapidly. It all started with simple commands that were relatively straightforward. Those features were introduced on our phones and have since expanded to include smart home technology, wireless speakers, and pods. Communication with these devices is much more advanced now, to the point where you can have natural, human interactions with them through the touch of a button or a short statement.
Approximately 55% of teens and 41% of adults use voice search at least once a day. That's a huge portion of the market.
As the technology continues to grow and evolve, it will become a crucial component that most businesses will need to consider adopting as a modern solution(s), including direct integration into customer experience programs. The incorporation of modern voice technologies in customer experience will effectively modernize, some might even say future proof, the industry.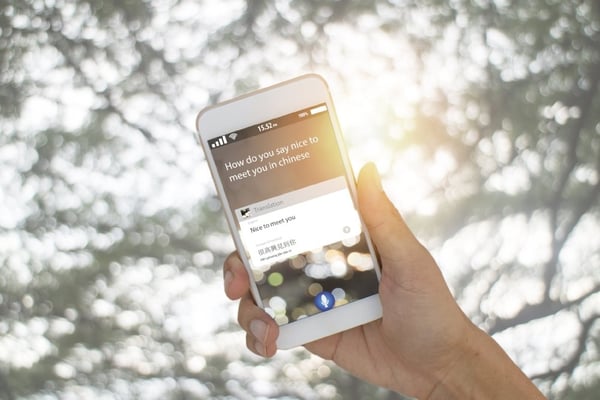 What Voice Activation and Modern Voice Assistants Mean for Business
Voice-activated technologies will revolutionize not just the consumer market, but the business world too. To understand how and why, you also have to understand these platforms and what they have to offer.
In recent years, Amazon Echo has evolved from a gimmick to the "must-have" smart home device. According to Forbes.com, 11 million Amazon Echo's were sold last year and the company can expect sales to double by the end of 2017. An article by VoiceLabs mentioned that the success of the Google Home, Google's response to the trend, released last November, has "legitimized multi-platform ecosystem of voice-first devices." Microsoft's Cortana, Apple's Siri through HomeKit, and a variety of other devices are just a small sample of what's to come.
Voice-first devices, if you will, are part of a new channel called the voice market or voice ecosystem. It emerged thanks to the adoption of these always-on and dedicated voice-based tools. Similar to the web, mobile, and email markets, it's simply another channel of communication or tool for interaction.
As for what voice dictation devices can do:
Prompt web search via voice commands

Smart replies or query responses a la verbal chatbots

Mobile voice assistants

Automated shopping help

Smart home hub or automation hub to interface with alternate tech

Entertainment through streamed media and radio services
As you might expect, the support will expand over time as the developers of these platforms innovate and add more content. It's likely we will see more uses than what's listed here crop up soon.
Voice activation and smart reply technologies can be used to augment the modern customer experience. It's all about customer communication and the responses/reactions you offer, especially to EBC Managers. Imagine if your potential customers could talk to an app or phone to ask questions about your product/services and it could give them a smart answer back. You would no longer need to be present in some form to make the experience personalized and memorable. Not only could it be of help to your customer, but your team as well. For example, you could ask your phone or smart device to change the content on a digital wall/signage to display a custom greeting for a customer 5 minutes before they get there, helping your team maximize its time and resources.
Voice Technologies Will Alter Communication and Relationships
Much like the conventional chatbots or automated chat tools that have transformed communication via text-based channels, voice activation tools like Siri, Alexa, and Google Assistant will do the same for more natural speech.
There are several ways this can be approached. Brands and businesses can hire in-house development teams to craft the kind of experiences and apps necessary to work with these platforms. This would deliver an almost proprietary experience to customers. They can also deploy these devices in-store, or online, to change the way customers shop, communicate, and reach out.
More importantly, it's another exposure or channel to highlight promotions, marketing, and content. Much like with SEO practices, where you're maximizing exposure potential for web results, you can do the same for voice search and voice information platforms. Google and Alexa, for example, will return information pertaining to a query, highlighting the importance of being a premier source of information.
Ultimately, getting vocal is more about direct interactions and engagements with your audience, in their environment. They're going to reach out to these tools when they want, request or ask what they want, and use them exactly how they want. It's not so much about funneling or channeling communication to meet conventional business strategies. It's more about providing your audiences and customers the option to discover what they want to or… what you need them to.