Pros and Cons of Mobile Technology
Building or establishing a mobile presence is not the same as developing a desktop web experience. For starters, you'll need to decide whether you want to provide a mobile web or a native mobile app experience. From there, the process is more cumbersome and overwhelming. There are so many options and features to worry about, and there are so many mobile devices to test, just to ensure things are in working order.
And yet, if you want to be a driving force in today's market, you have to do it.
In 2016, mobile internet usage surpassed desktop for the first time ever, a trend that has continued since. More alarming is Statista's estimate that the number of mobile phone users worldwide will reach 5.07 billion by 2019. You can easily see from these stats, that having a mobile presence and digitizing your customer experience is no longer optional.
But before you can do anything, you need to decide what kind of mobile customer experience you're going to offer. Rather than try to swing you one way or the other, we're going to lay out some of the benefits of each - mobile app and mobile web experiences - and leave the decision to you.
What's the Difference Between Mobile Web and Mobile App Experiences?
You cannot decide which option is better for your brand and business initiatives, if you don't know the differences between mobile apps and mobile web.
What sets mobile web apart from native or dedicated mobile apps? Why would you choose one experience over the other? Is it beneficial to do both? Is that even possible?
Benefits of Mobile Apps
Native mobile apps tend to perform better because they are designed for specific hardware

Mobile apps tend to be more capable because they can tap into a device's exclusive features like camera, wireless connectivity, push notifications and more

Apps get full support from their respective app stores or marketplaces

Apps get the added benefit of being more secure and protected; app store admins - like Google - verify the safety of apps and services offered

Native apps are easier to convert and or port to various channels, especially when using a cross-platform SDK

Native apps can take full advantage of customer experience touchpoints inside and out of a physical space by using location data

An app can and does provide the UI and UX customers expect from a mobile experience

Native apps work offline

Personalization is key to customer experience, and mobile apps offer more relevant, contextual experiences because they 'know' their user

Apps tend to be easier to access and 'pull up' as opposed to accessing a mobile responsive web page

From an enterprise perspective, mobile apps can facilitate on-going customer relationships in the B2C space
Benefits of Mobile Web
Mobile websites are instantly available to your audience, and there's no need to download or install any additional components

Mobile websites are compatible across multiple channels, platforms, and devices

Thanks to web search, mobile websites can be found easily

Mobile websites don't necessarily require authentication or personal information to access

Mobile websites tend to have a broader reach than apps made for a particular platform or type of device

Mobile websites can easily be converted into an app (though it should be noted native is always better)

Support and maintenance of mobile websites is easier to provide

Mobile web is good for companies with strict security regulations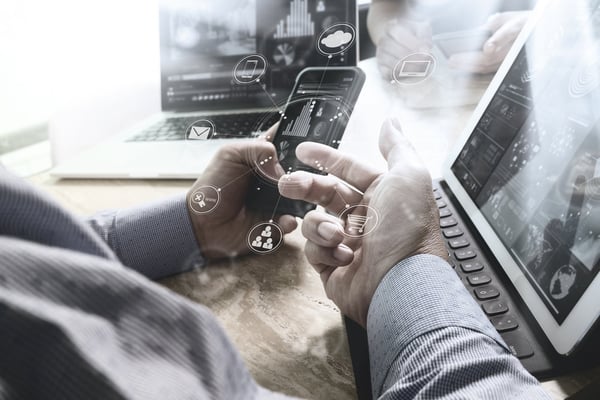 Step One: Mobilize Your Program
Knowing the benefits of each, it's easier to decide which of them better fits your goals and business plan. Keep in mind, it's important that you focus on developing an extension of your program, or existing customer journey beyond in-person and beyond desktop touchpoints.
On some level, there is a path that your customers are already used to especially concerning your brand and reputation. When producing a mobile or digitized experience, it's crucial that you convert that underlying program - to keep the experience seamless and intact - for use on the new or additional platform.
A State of the Connected Customer study by Salesforce revealed that 75% of consumers expect a consistent experience wherever and whenever they engage across websites, mobile, social, in-person etc. Once users download and install an app on their device, there are no guarantees they will open it again, but there is hope and there are supporting trends.
This is certainly a legitimate concern and it's understandable if it sways your alignment one way or another. But if personalization, relevancy, ease of access, and perpetual engagement are important for your digital transformation efforts, then the benefits likely outweigh the detractors when it comes mobile.
While we personally believe a native mobile app is better for many reasons - the most important of which is that it offers a hybrid environment for offline and online use - there's no reason you cannot deploy a web experience if you'd rather do that.
You can choose one or the other, or you can deliver both to your customers, allowing them to choose which they prefer.
Benefits of Both (A Hybrid Approach)
You increase accessibility and omni-channel exposure

In situations where apps aren't likely, a web experience is readily available

You can easily create mobile web version now, then integrate or convert to a different approach later

Both options lead with a mobile-mindset
Step Two: Develop a Solid Customer Journey
After finally choosing which platform or channel you prefer, it's time to establish some supporting touchpoints for your customers. By definition, a touchpoint is any time that a potential or loyal customer interacts and or engages with your brand. This could be before, during, or even after they purchase something from you or subscribe to a service. It covers the entire journey from discovery and beyond.
To develop a successful customer journey - and workable map internally - you first need to identify those touchpoints. This helps you better craft and optimize them, so that your audience and customers stay satisfied every single step of the way.
Put yourself in your customer's shoes and take the journey yourself. See what it's like to discover and use your different app or web experiences. Is the messaging and supporting collateral communicating effectively? Are you enjoying one channel over the other? What frustrates you? What moments were done well, and where could you see improvements? But most importantly, did it fulfill your needs across speed, accessibility, look & feel etc.?
Establish touchpoints all along that route to ensure your customers have a great time.