Find Out How Social Mapping With a Mobile Tool Can Give You An Edge!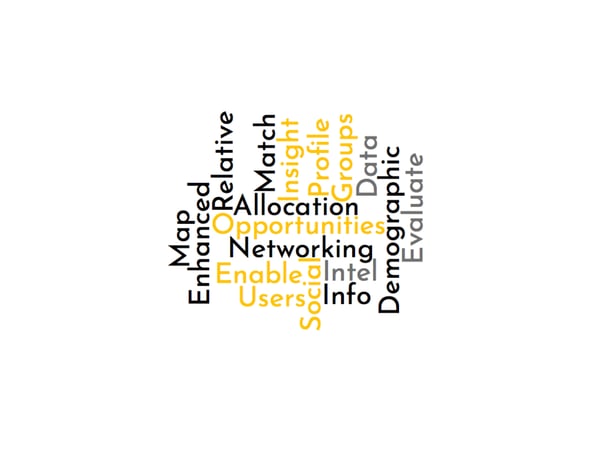 What: Social mapping leverages business relevant criteria in-app to share a relative allocation of users across meeting, event, or program audience group(s).
When your users on-board to your mobile app customer experience program, they can automatically pull professional information from LinkedIn and provide additional work-related details so that they can map to other similar (or divers) users to fulfill their networking goals.
It also allows managers and event planners to see a more accurate representation of how their users and attendees are distributed across different KPIs or labels.
Why: Adopting social mapping capabilities for event marketing is a win-win. It drives value for attendees by simplifying networking—one of the most important drivers of event attendance.
Additionally, you can establish an agenda that caters to their needs by laser-focusing topics and discussions on the specific pain points common among that demographic.
Connected devices are forecasted to exceed 20 billion, with the majority being connected by APIs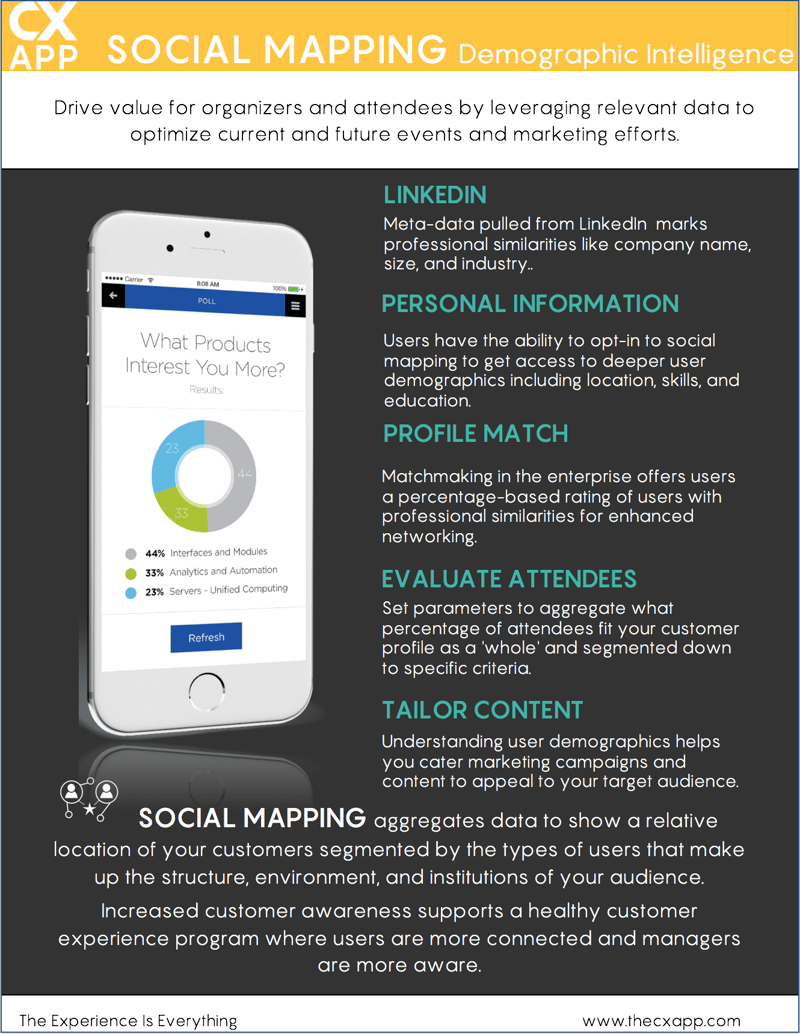 Scenario
Joe Growsmore, Customer Experience Manager at Silcom Tech, is working with the Briefing Program Manager, Mary Plansit, to refine their in-person awareness for upcoming events. Joe and Mary both want to make sure that customers and users have higher levels of satisfaction than previous events and also increase interaction amongst attendees as in the past, that has been something they've identified as a weakness in their program.
When planning for their fall user group session, Joe goes into the CXApp to look at the number and diversity of attendees coming to the event. Knowing that social mapping tools will help him identify the different groups and sub-groups in attendance, Joe runs a report to see what percentage of their users will be coming from their different client base, as well as to identify also how many each of the same titles, industries etc. will be attending.
Joe works with Mary to customize the content for the fall users group based on the attendee prospectus he gets from the CXApp knowing that 63% will be coming from Rapid North, and 20% coming from FlexOps. These are both huge clients for Silcom Tech and system integration partners. Joe is also able to identify that 75% of the attendees will be Senior level or higher.
At the event, David Visitus, from FlexOps, has expressed interest in the past that he would like to connect more with other Silcom Tech customers/members to explore potential partnering opportunities. On-site, David pulls out his CXApp and searches for attendees that are 1. in his industry, 2. work at companies with more than 500 people, 3. are located in California, and 4. have similar roles to his. After defining the criteria, David finds that there are a handful of matches at different percentages based on these user parameters. His top match, not is Sandra Partaker from Rapid North. David sends an in-app message to Sandra asking if she has time during the event to get together to talk about possible opportunities.
Joe, Mary, and David feel more relaxed that they now have more insight into the on-site and in-person users of the CXApp and can seamlessly engage with other like-minded individuals.
Ready to leverage social mapping as part of your digital transformation strategy?