There are 2.3 billion active social media users, and that number continues to grow every day. If you know how to tap into the social market you can see a massive boost in traffic and user engagement, and that will also boost revenue. This is especially true for content marketers, who spend a majority of their time creating compelling, unique content and then sharing it with the world at large.
Of course, the influx of traffic, engagement and interactions from social is largely driven by "awareness" and or brand reputation. By increasing awareness and exposure of your brand, products, services, and even experiences you offer will effectively increase every other proponent of running a successful business. This is thanks to the hyper-social, real-time, and digitally-advanced world we live in today. Not only is everyone tuned in to social at any given moment, they carry mobile devices and smartphones... everywhere. This allows them to engage in a variety of ways, even through mobile web or native apps.
It just so happens that social media is a core proponent for increasing brand awareness and exposure. People love to share their opinions and interesting finds, and they also love to see - and are influenced by - content posted by their peers. A whopping 80% of consumers are likely to buy an item or subscribe to a service, based solely on a friend's recommendations.
Furthermore, 45% of global shoppers are influenced by reading online reviews, comments, and feedback, including social media.
Working to increase or successfully increasing your brand awareness via social media is called social amplification. Before we look at the power of social sharing, let's be sure you're starting with the right formula.
Social Provides Another Touchpoint
You are no longer providing a simple product to your customers and audience. Today, it is about the experience you provide, from the moment a customer discovers your brand or site, to the moment their shiny new toy arrives on their doorstep. Before it can even get to that point, however, you must direct your customers or audience through a sales funnel - this is the core element of all marketing and sales websites.
The truth of the matter is, you really don't have that many opportunities to communicate and touch base with your customers between the various stages. And in today's world, customers and clients have all the power. Thanks to mobile, they can choose when, where, and how much they're going to engage with your brand and content.
Social media provides another compelling, and lucrative opportunity to engage with your customers, loyal and potential.
High-Quality Images and Media are Key
Visual content is over 40 times more likely to be shared across social media than any other type of content. In addition, through analysis of over one million articles, Buzzsumo discovered that content with an image every 75-100 words acquired double the social shares and engagement as articles without.
It means that content marketing and social media content doesn't have to be full of text; in fact, it's better when comprised of mostly visual content. High-quality images and videos are highly engaging, highly shareable and that means a boost in brand awareness for you - if and when you are producing this kind of content.
Mobile devices can display HD-quality content, faster and more efficiently than ever before. Some of the limitations that existed in the past, are no longer hanging about. You can, for instance, embed a full size YouTube video below your content that shows off a promotion or product. Both your desktop and mobile users will benefit from this media.
In fact, mobile internet usage surpassed desktop back in 2016, and that trend has continued ever since.
Content Relevancy Is A Must
Through modern web searches, local search, and modern assistant tools - like Alexa and Siri - customers are now relying on the web more than ever to find and discover new information.
The art to getting your brand discovered through search engines, and boosting your search ranking is called search engine optimization or SEO. Wouldn't you know it? One of the core tenants of SEO optimization is delivering quality, unique, and totally relevant content to your audience.
The best way to do this is to tap into your audience through social, and engage with them directly. Then, and only then, will you be able to deliver the kind of customer experiences that elevate your brand reputation to the heavens.
Just remember, it's the entire journey that you should be concerned with, including outside of your regular channels. You need to be able to engage and interact with your customers outside of your official website, customer support options, and regular communication channels. Social media provides that additional opportunity.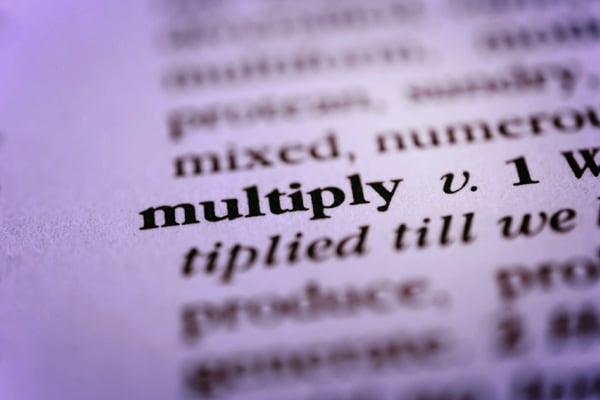 Now for the Multiplier Effect
Look, we'll give it to you straight, going viral is largely out of your control. It has to be the perfect storm of engaging content, timing, and customer awareness. But it's easy to forget that there's a viral component to all levels of social media use. This can be attributed to the multiplier effect.
Amplification happens when your content is shared (organic or paid) within social marketing channels increasing word-of-mouth exposure (via customers, partners, influences, fans etc.).
For each piece of content or communication you share, there are more people outside of your regular audience that are going to see it. Someone that follows your brand on Facebook, for instance, might share a compelling post on their own timeline thus making it visible to their friends, family, and colleagues.
Thought dated, a 2011 study from AOL and Nielsen still holds relevance today. It revealed that well over 27 million pieces of content are shared every day. And that was over five years ago, today about 3.2 million images are shared per day across social media.
Consider the exponential impact of those shares. It can do wonders for your brand awareness and exposure, especially if you can get your audience sharing of their own accord too.
Provide insight. Likes are likes. But, when sharing content, it is important that the 're-sharer' gives a supporting reason as to why the content is compelling. This will increase click-through and/or additional 're-shares' and likes.

Identify influencers

Organic influencers are individuals who have built an authority within the industry for the sake of providing valuable insight to their readers.

Paid influencers have also built an authority within the industry and will review/promote brand/product awareness for a set compensation.

And, be sure to diversify

Facebook: the average user has 338 connections

Twitter: the average user has 208 connections

LinkedIn: the average user has between 300 - 900 connections
First level connections are just that, first level. But when you start thinking about the extended reach you have beyond your first connections, to second-level and tertiary, the ability to reach beyond your network is magnified. Your network is your 1st-level connections, but your "reach" is your second-level connections (the unique people who follow the people who follow you).
If 10% of your network interacts with your content, then it becomes exposed to their network. And if 5% of their network interacts with your content, it becomes exposed to their network and so on down the line. With each extension, the multiplier for your content, promotions, assets etc. goes well beyond three (or even 6) degrees of separation.