The Grand CX Journey
Global Web Index recently published an interview with Joe McCambley, one member of the team who created the first web banner ad back in 1994. In the interview, McCambley discussed the intentions behind that first banner ad and the evolution of display advertising that followed, stating "I think in digital advertising, especially over the past 20 years, it's been about anything but the customer and their need ... It's been about tricking people into clicking."
The interview highlights how display advertising has changed in the 22 years since that first banner ad was served on the web, but the sentiments apply to the overall evolution of customer experience in the last two decades.
Customer experience is defined by how well you meet customers' expectations every time they interact with your brand. As technology has evolved, the number of touchpoints brands have with consumers has increased exponentially, and at every point, brands have abused the relationship. Consumers were tricked into clicking low-quality search results, bombarded with popup ads, and added to email marketing lists they never subscribed to.
The result of all of this is smarter consumers who are increasingly adopting ad-blocking software and extremely skeptical of marketing in all forms. For brands, this means that providing an exceptional customer experience is more crucial—and more complex—than ever before. To understand the modern consumer and provide exceptional service, it's important look at how the constructs of customer experience have evolved alongside recent technological advances.
The Dark Ages: Tell Me What I Need
In the early days of the Internet, providing a good customer experience was a simple matter of offering product- and specification-driven information. Consumers conducted searches for products and based their decisions on how specifications compared to those of competing products. At this stage, marketing was entirely based on promoting products, highlighting benefits, and surfacing 'speeds and feeds'.
Age of Enlightenment: Help Me Use Your Product/Service
Once consumers purchased products, they needed assistance using them. At this point, providing an exceptional customer experience became about customer service and communications. Initially, all communications took place over the phone, but eventually that evolved to email, live chat, and social media communications as well. Providing exceptional customer service meant that it was important not only to be available to answer questions and/or resolve issues, but to be available using the method of communication the customer preferred.
Socialism: Explain Why I Need Your Product/Service
Over time, consumers became smarter about making purchases online. Product specifications were no longer enough—they needed more clarity on why a purchase was beneficial. This led to the rise of experiential marketing—a shift from viewing consumers as recipients of brand messaging to inviting them to participate in the creation of messaging. This gives birth to the customer use case, and creating value propositions for each step of the user journey. Content, event, and social media marketing all exploded as this phase of customer experience became critical—all were means of shifting from talking at customers to creating a dialogue with customers.
Big Data: Predict My Needs
As more consumers turn to the internet to fill their needs, companies are able to collect more data with sophisticated analytics and tracking tools that savor every little digital action you take. At first this was just mountains of data being saved and stored for later use, but once organizations began to sift through and understand the data, actionable insights become evident. This led to AI-driven, predictive marketing. The ability to effectively collect and break down massive amounts of data to describe and influence consumer behavior gives us a powerful source for dynamic marketing. With big data, companies can better understand exactly what their customers need at every stage of the buying journey—from before the customer even knows he needs your product/service and through the entire lifetime of the customer-brand relationship.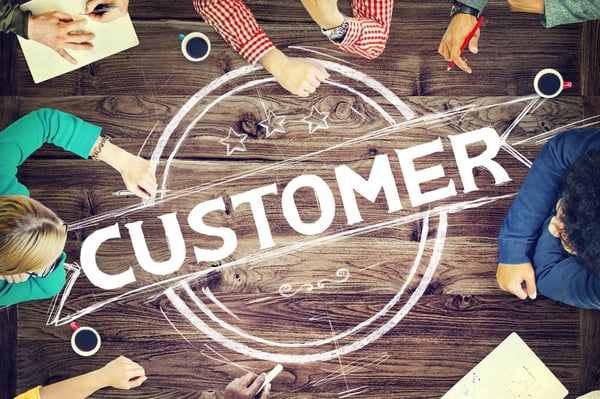 Modern Consumer Experience
Each evolutionary phase of the customer experience builds upon the last and brings distinct new requirements to light, but none eradicated the importance of the former phase. Today, each is a component of the overarching customer experience.
Product specifications are still required, but they are served to the consumer at the right time using experiential marketing tactics. With content, social media, and event marketing, buyers are guided carefully through the purchasing journey with conversations and content that meets their needs at every step.

Customer service is still critical, but it's conducted across a variety of channels using multiple mediums. The data from these interactions is collected and used to improve the experience for customers in the future, optimizing internal and external processes.

Experiential marketing and predictive marketing are used to create an omni-channel experience that creates consistency in interactions across all analog and digital touchpoints. The data helps brands recognize customers, understand their needs, and make highly educated hypotheses about where customers are in the purchasing journey in order to guide them through interactions in highly personalized manner.
While advances in technology have added complexities in terms of the number of places where interactions occur between brands and their consumers, they have also simplified the ability for businesses to understand customer needs, to connect with customers in a personalized way, and to guide them toward purchases that are mutually beneficial.
Modern customer experience means optimizing the user journey at all touchpoints, digital, physical or other. According to a recent report published by Walker—a customer intelligence consulting firm—by 2020, customer experience will be more important than both price and product features in brand differentiation.
Companies that are early adopters of the digital technologies available today will be at the forefront of data collection and personalization that will be demanded for success in the experience-driven, contextually predictive, future of marketing, and will drive the changes that will take place in subsequent phases in the evolution of customer experience.