It's easy to think of a visit to an EBC as a series of interactions. Did the visitor receive a warm greeting upon arrival? Did they enjoy the first presentation; the second? If you could survey the visitor about each specific interaction, you may find that each was highly rated. But highly rated individual interactions do not necessarily equate to overall satisfaction. The reason: people don't judge events in terms of individual interactions. They judge based on the end-to-end experience.
In an article in Harvard Business Review, partners from a global management consulting firm discuss what they learned from working with a leading pay TV provider. The provider was receiving high scores when measuring customer satisfaction with individual interactions, but it was still losing a lot of customers. When they started looking into the problem, they found that it wasn't any one interaction that was driving dissatisfaction, it was the overall experience.
"Most customers weren't fed up with any one phone call, field visit, or other interaction—in fact, they didn't much care about those singular touchpoints. What reduced satisfaction was something few companies manage—cumulative experiences across multiple touchpoints and in multiple channels over time."
Imagine that you have an issue with your cable TV service, so you call to have the problem addressed. They resolve the problem, so you rate the interaction highly. A month later, the same problem occurs. Each time the issue is resolved, so each time you rate the interactions as successful. But your overall satisfaction is declining. It's not enough to fix the problem each time you call. The fact that you must keep calling is frustrating. The overall experience is dissatisfactory.
Managing the end-to-end experience for visitors to an EBC is crucial to success. Visitors may love each presentation and each interaction with your company. However, if they struggled to find your venue, if they had trouble figuring out where they needed to go for each presentation, or if presentation times changed and they weren't notified, it damages the holistic experience. The individual interactions are meaningless if the overall experience was cumbersome.
A positive end-to-end experience is a crucial driver of customer loyalty.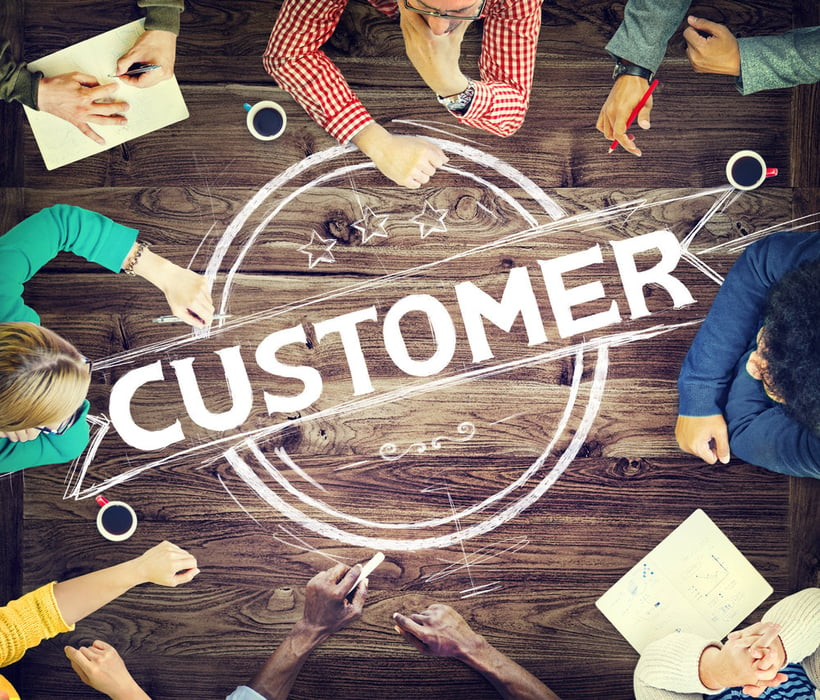 Creating a Holistic Customer Experience
To create a holistic customer experience, you must first map the customer journey of visiting your EBC. That journey doesn't start the moment the customer walks into the lobby of your EBC. It starts the moment they decide to attend a session.
Before visitors arrive, they must schedule the visit or purchase a ticket to your event. Then, they have to make travel arrangements—book flights and lodgings, setup other arrangements and plan accordingly. Finally, they must get from their hotel to your event, find the correct entrance, check in, and find the location of the first meeting or presentation. This could potentially all happen before your first interaction with the visitor, but each of these moments have an impact on the visitor's perception of the services received.
Because the end-to-end experience impacts the visitor's overall satisfaction, it's crucial to assist with the logistics of the visit, but it's not always practical to offer a personal concierge for each visitor.
To manage the end-to-end experience, a mobile app can aid in simplifying each micro-moment and stringing them together to create a macro experience with integrated technologies.
With a mobile event or briefing app, you can offer concierge-level of service to each individual visitor without overtaxing your team or your budget:
Integrate with Ticketmaster and other ticketing services to offer event tickets directly through your app, orchestrating your visitor's journey from the moment they decide to attend.

Integration with Google Maps allows visitors to get detailed directions to your venue without ever leaving your mobile briefing application.

Integration with Uber allows visitors to call a ride to get them from the hotel to your EBC, or from your EBC to popular restaurants and bars you've recommended in the app without the hassle of identifying the best mode of transportation.

Automatic syncing with Briefing Source and Briefing Edge meeting management platforms allow you to manage agendas, schedules, and data in your pre-existing briefing management system and have data auto-populate in your app so visitors always have up-to-date information.

Use QR code software to allow visitors to check in the moment they arrive and signal a representative or special offers.

Activity Feeds provide an aggregated stream of the most popular social topics related to your company or event and allows easy one-click options to join the conversation right from the app.

Integrate with popular survey tools like SurveyMonkey or Eloqua to measure customer satisfaction at important stages of the briefing journey.

Social engagement walls offer physical touchpoints in a digital fashion interacting with beaconing software and the app itself to provide a socially inclusive, and personalized experience.

Virtual meeting software integrations allow visitors to attend important sessions even if flight delays or other travel impediments cause scheduling conflicts.
These third-party integrations, combined with the power of a mobile application that acts as a personal concierge, allows effective end-to-end management of the visitor's entire experience. This creates an immersive, encompassing digital experience that drives loyalty and creates a desire to come back to the app again and again.
The Connection Between Loyalty and Simplicity
In its 2016 customer loyalty statistics report, Access Development includes two powerful statistics:
81% of customers feel frustrated when it's not simple to conduct business with a company

Of companies with decreased loyalty in the last year, 66% did not have a mobile app
The power of mobile apps is their ability to simplify tasks and transactions. Uber's success is the perfect example of the power of simplicity. At its essence, Uber is just the same cab service we've all had access to for decades. But it's powerful because it's simple. You click a button, and minutes later someone pulls up to the curb. When you arrive at your destination, you get out of the car. No phone calls are needed, you don't need to provide an address, and you don't need cash.
Mobile apps simplify the process of conducting business, eliminating the frustration that arises when dealing with complexities. By simplifying the process of the holistic briefing experience—from the moment the visitor decides to attend to the moment he arrives home after the briefing or event—you can create a positive, end-to-end experience that drives customer loyalty and ensures success.
It's that simple!