"Technology and social media have brought power back to the people," Mark McKinnon.
To understand the power of social media for growing brand awareness and engagement, just consider the numbers. According to the most recent report from Global Web Index, a whopping 98% of Internet users are active on one or more social media sites. Over the last decade, social networks have become an integral part of people's lives, and smart brands are taking advantage of social's broad and engaged audience to attract customers and connect with audiences.
Social media can be particularly powerful when used as a part of an event. Before an event, social sites provide an effective means of growing participation and building anticipation. During the event, social can be used to create community by connecting participants with the brand, presenters, and other attendees. Throughout the event, social chatter helps brands expand awareness and build excitement for future events.
As Dr. Seuss says: "Oh the things you can find if you don't stay behind!" To enable these benefits and reap the rewards, brands must build an immersive social presence by coming up with creative ways of integrating social media into the event lifecycle.
Drive Attendance Before Events
"A Person's a Person No Matter How Small"
Promoting your event on your website and through email marketing campaigns is an effective means of driving event attendance among people who are already engaged with your brand, but the most successful events draw attendance from both existing and new audiences. However, to attract new attendees, you must connect with audiences you're not yet engaged with. One way to do this is through advertising, but a more cost-effective approach is to utilize social media.
"If things start happening, don't worry, don't stew. Just go right along and you'll start happening too."
When executed correctly, social media posts about your event can grow your reach exponentially. When someone retweets or likes your post, it will display in feeds for his/her entire network, as a social amplifier. If you spend the time to come up with creative and inspiring posts that are worth sharing, you can significantly expand event awareness to new audiences without spending a dime. As a bonus, frequent posts about your event in attendees' feeds will build event anticipation and excitement.
Build Community and Enable Networking During Events
"Be who you are and say what you feel, because those that mind don't matter and those that matter don't mind."
One of the biggest draws for participants attending an event is the ability to network with other attendees and speakers. An easy way to enable networking and create community is to have a social tie-in with your event. There are several ways to tie social into your event to build community and encourage shares:
Utilize a mobile event app with an activity feed. There are many benefits of using a mobile event app, but one popular use is through an in-app activity feed that aggregates all event social posts. Attendees can access the feed to see who else is attending, connect with others who've posted updates, and get updates on highly anticipated presentations and speakers.
Install a customer engagement wall. Bring multiple social networks into one activity feed and display that feed on a screen in a high-traffic event area to raise awareness of ongoing social conversations, encourage participation, and offer attendees' their 15 minutes of event fame by getting on the social wall.
Create a custom hashtag campaign. A custom hashtag campaign can boost brand and event awareness across multiple social channels and provides a simple way to aggregate posts. Encourage employees, speakers, and participants to use the hashtag in their posts and updates to secure the greatest benefit.
"If you never did you should. These things are fun, and fun is good."
Events without community interaction are just meetings—they feel more like work than fun gatherings. However, by integrating social media, you can create a greater sense of community among attendees, enabling participants to grow their networks while creating fond memories that will encourage attendance at future events.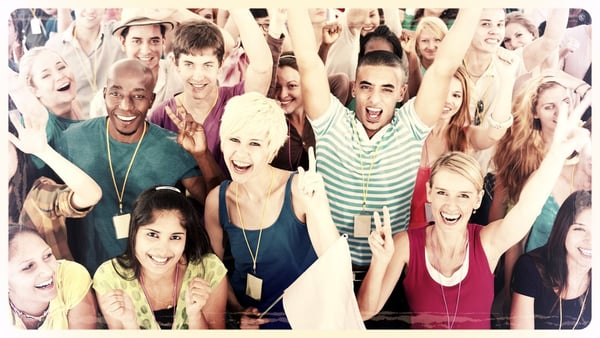 Build Brand Awareness Throughout the Event Lifecycle
"Sometimes you will never know the value of a moment, until it becomes a memory."
Each social media post that is shared—every time someone retweets a post, shares a quote from an event speaker, or posts a photo of the event— your event is broadcast to an immense audience of social media users. Each of these social moments work together to grow brand awareness, even among those that don't participate in the event itself. They see your brand name, learn more about what your brand does, and may be encouraged to participate in future events.
According to a 2015 Nielsen report, recommendation from friends is the most credible form of advertising: 83% percent of people report trusting the recommendations of those closest to them.
By expanding your presence on social media, integrating social throughout your event lifecycle, and building an active and engaged social audience, you build social proof for both your event and your brand that designates your relevancy, boosts awareness, and builds loyalty.
"And will you succeed? Yes, you will indeed. (98 and ¾ percent guaranteed)." - Dr Seuss.