Recognition. Achievement. Innovation. Value.
Just a few reasons we are happy to announce that The CXApp and Aruba Networks recently won an Award of Distinction for a Mobile App w/ an Integrated Mobile Experience in the 26th annual Communicator Awards.
The Communicator Awards is the leading international awards program recognizing big ideas in marketing and communications and honors work that transcends innovation and craft. With over 6,000 entries received from across the US and around the world, the Communicator Awards is the largest and most competitive awards program honoring creative excellence for communications professionals.
We are so very proud that the team at Aruba has been recognized for creating an experience at their Santa Clara campus that embodies immersive experiences, proactive communication, and forward-thinking IT strategies for a connected workplace.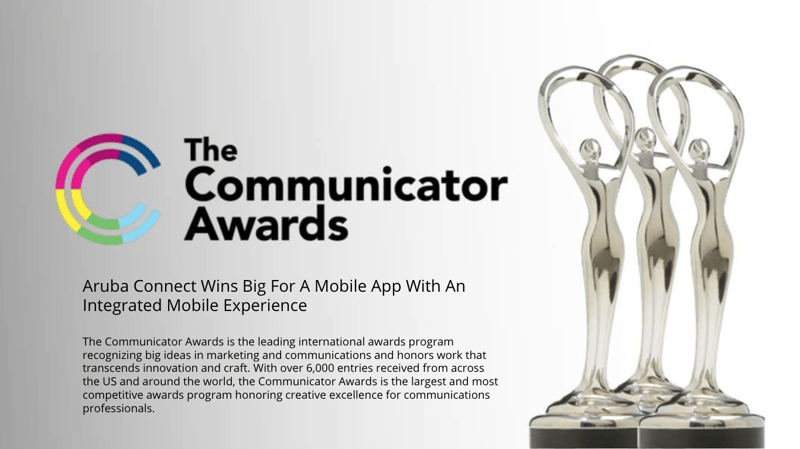 Innovation In the Enterprise
When it comes to innovation in the enterprise, it's more than just having a functioning app that accomplishes one task or goal. It's about creating a holistic experience that encompasses several use cases across a diverse workforce. The entire solution needs to be: user friendly, scalable, and address engagement touchpoints that would otherwise not be accomplished without a mobile app.
"We've always had a great relationship with the team at Aruba. We are partners in innovation and digital transformation across large spaces from offices to event halls and everywhere in between. They are getting the recognition they deserve for creative approaches to the employee experience here in Silicon Valley." Leon Papkoff, CEO and Chief Strategist The CXApp
The Aruba Connect App creates a connected campus experience that defines the future of work. And by bringing their cutting-edge location services technology into The CXApp campus platform, they were able to create a digital front-door to employee experience and life at Aruba's headquarters.
We are honored to be partners with an innovative company that is an industry leader and taking the network beyond the traditional role of connectivity. It's very exciting to see use cases come to life in the workplace at Aruba and other smart campuses worldwide as we continue to re-imagine the future of work.
>>Watch the Video << Leon Papkoff and Tim Vanevenhoven (Solutions Business Development at Aruba) talk Smart Campus.
---
About the Communicator Awards: The Communicator Awards is the leading international creative awards program honoring creative excellence for communication professionals. Founded over two decades ago, The Communicator Awards is an annual competition honoring the best in advertising, corporate communications, public relations and identity work for print, video, interactive and audio. The 26th Annual Communicator Awards received over 6,000 entries from ad agencies, interactive agencies, production firms, In-house creative professionals, graphic designers, design firms, and public relations firms. See the full winner's list
Who is behind the Communicator: The Communicator Awards are judged and overseen by the Academy of Interactive and Visual Arts (AIVA). The AIVA is an invitation-only member-based organization of leading professionals from various disciplines of the visual arts dedicated to embracing progress and the evolving nature of traditional and interactive media. Current membership represents a "Who's Who" of acclaimed media, advertising, and marketing firms, including: GE Digital, Republica, Tinder, PureMatter, Tool of North America, Fast Company, Territory Studios, and many others. Please visit aiva.org for more information.