How Do You Deliver On-Point Customer Experience to More than 3,100 Attendees at a Major Event? The CXApp, that's How.
Watch the video here!

Events that take place in today's highly-digitized world have to be smarter and more interactive. At the same time, event managers must be able to gather comprehensive data. Being able to adapt in real-time to meet the needs and expectations of guests is integral to delivering a positive experience. It's also what powers growth, enabling innovation for future events.
Aruba — a Hewlett Packard enterprise — hosted their annual Atmosphere 2018 convention in Mandalay Bay, Las Vegas at the beginning of this year, and are starting to gear up for 2019. The CXApp served as a cornerstone for attendee engagement at the conference. The app was customized to guide thousands of attendees through their entire journey from the moment they stepped off the airplane to when they left the convention center.
Leon Papkoff, Customer Experience Strategist for the CXApp, explains it best.
"One of the amazing things we do with our platform is really focus on the overall customer experience. It's customer experience as a service — powered by the CXApp — that can manage all of your events, and all the communities, or any of the EBC meetings that you have."
What Is Atmosphere 2018?
At Mandalay Bay, over 3,100 professionals gathered for a period of four days to learn, collaborate, discuss and influence the future direction of Aruba products.
The idea was to create a technology-focused event that delivered event experiences in unprecedented ways.
"We're very lucky to have partnered with Design Reactor [The CXApp] on this [event], and we hope to see you there as well!" — Ozer Dondurmacioglu, General Manager of Meridian Apps.
For each attendee, the introduction began long before they made it to the Mandalay Bay. It started with what we call "point A," the moment they arrived at the local airport.
Right away, the CXApp displayed precise directions, thanks to the Google Maps integration. The navigation didn't stop there. It continued within the walls of the venue, from the hotel, through the casino, up the escalators, and across the convention center.
This was made possible with the help of Meridian BluDot wireless beacon technology. Strategically placed beacons allowed event managers to engage with attendees throughout every corner of the venue — creating a more interactive event.
Furthermore, the app provided a live activity stream that showed guests what was happening around them. Attendees were also able to capture highlights from the event across 195 total sessions. As a result, user-generated content was produced before, during, and even after.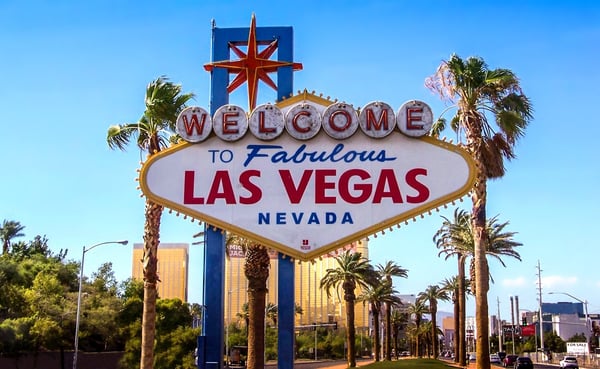 Here are some of the core elements that CXApp addressed during Aruba's Atmosphere 2018:
"An ideal tech solution is able to leverage insights and boost engagement before, during and after the event. But it doesn't stop there. The engagement must continue year after year. @TheCXApp"
CLICK TO TWEET
Location Services
Thanks to indoor mapping, attendees found their way through the venue even if they'd never visited the Mandalay Bay before.
One highlight of this feature is the "find a friend" option, which helped guests find contacts. They were able to quickly network with others - which is always a priority.
Another creative use of location services was the "innovation zone," a system that guided guests to sponsored booths based on their preferences and current location.
Agenda Feature
Every guest was able to access a personalized and customizable agenda via the CXApp. It also provided details like speaker bios, meeting descriptions, and eContent.
On the backend, event managers were able to create "entitled groups" which were assigned separate levels of authentication. Some advanced users, for example, were able to go, see and do more within the venue.
Activity Stream
Finally, we have the activity stream with Twitter and LinkedIn integrations. Guests shared experiences with each other, as well as anyone outside the event.
The live stream provided user data to managers for further analysis. Event managers were able to respond to important conversations, interactions and feedback in real-time.
Polls and surveys were also carried out through the app, and real-time results appeared in the activity stream as data poured in.
Welcome to the Future: Next Generation Smart Events
Great event apps provide exceptional customer experiences.
An ideal tech solution is able to leverage insights and boost engagement before, during and after the event. But it doesn't stop there. The engagement must continue year after year. Event planners should be able to build upon past interactions to achieve a perpetual state of improvement.
We bring the event tech - you create best-in-class experiences.